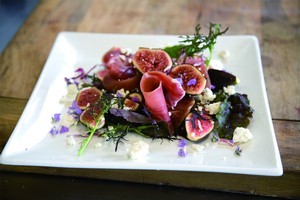 The award-winning Ripe Deli in Grey Lynn has established a reputation among foodlovers for its healthy, flavoursome dishes. Now founder Angela Redfern, has put together a collection of her most popular recipes for us to cook at home. Angela is a big believer in using ingredients that are in season, so has divided the book into six chapters, each focusing on two months, plus sections on antipasto, dressings and one in which she shares her cooking tips. Vegetarians will love the many salad recipes, bakers can indulge in rhubarb butterscotch layer cake and black forest roulade, among other ideas, and for meatlovers there are recipes including sticky spare ribs and "Go Go Chicken".
Fig, prosciutto and goat's cheese saladA sight for sore eyes. This beautiful salad was put together by our head chef, Pip Wylie. It makes a great starter or lunch with your favourite sourdough.
This recipe can be made on one large platter (as shown in the photograph) or, as follows, on individual plates. Fully ripe figs are essential. Serves 4.
Ingredients
4 small handfuls of fresh rocket leaves or mesclun
4 fresh figs, scored into quarters, leaving whole at the base
4 slices prosciutto, torn into long strips
100g soft goat's cheese, crumbled
Salt and freshly ground black pepper
4 tsp thyme honey, or your favourite liquid local flower honey
Extra virgin olive oil
Edible lavender sprigs, to garnishFig, prosciutto and goat's cheese salad.
1 To assemble the salads, evenly distribute three quarters of the rocket leaves between four serving plates. Top with the figs, torn prosciutto, crumbled goat's cheese and lastly the remaining rocket, keeping as much height as you can.
2 Lightly season with salt and freshly ground black pepper.
3 Drizzle over honey and a little extra virgin olive oil and decorate with lavender sprigs.
Serve immediately.