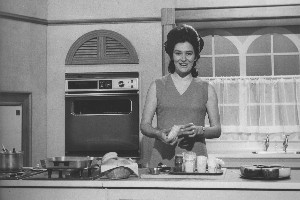 Despite tough economic times, nearly a third of New Zealanders eat out more than they cook at home.
A Herald Digipoll survey of 750 people found that 28.1 per cent of us were too exhausted or lacked the skills to whip up a meal, cooking three times or less per week.
Men were less likely to spend time in the kitchen than women. The poll indicated that 2 in 5 women cooked every night of the week, compared to 1 in 5 men.
The large proportion of New Zealanders who did not cook was attributed to a decline in home economics in schools, and the popularity of ready-made meals and takeaways.
Home cooking doyenne Dame Alison Holst says she was not surprised by the results, because there was a perception that home cooking was laborious and time consuming.
"If you go into a supermarket at the end of the day, you see everybody on their way home from work, grabbing things they can take home and heat up and eat."
"Everybody's trying to fit a lot into the day.
"A number of people really like cooking, but there are others who regard it as a chore."
Dame Alison put the demise of home cooking down to the higher number of women in the workforce, and the decline of cooking rooms in schools.
She felt that New Zealanders increasingly lacked practical skills - children were not being taught to cook, sew, or mend things.
"You can't criticise people for not cooking, there's only a certain number of hours in the day. But I get worried that children are not learning how to cook.
"If you haven't seen your parents cook, how are you going to do it?"
She said in the 99 books she had written she had tried to emphasise that home cooking was healthier, cheaper, and usually tasted better.
Dame Alison cooked six nights a week, but did not expect all people to do the same.
While it appeared less people were cooking at home, the takeaways industry was showing strong sales figures.
Takeaways tend to thrive during gloomy economic times - Restaurant Brands, which operates KFC and Pizza Hut, reported robust sales during New Zealand's economic recession.
A UMR Research poll in November showed that 32 per cent of New Zealanders ate out at least weekly.