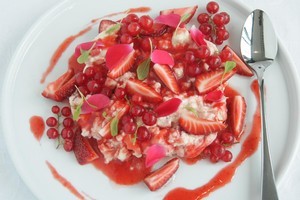 250g strawberries, hulled and halved
Heilala vanilla bean, seeds scraped
1 orange, zested and juiced
20ml aged balsamic vinegar
1 tbsp caster sugar
tsp salt
500ml thickened cream
250g caster sugar
50g strawberries, hulled and diced
1 packet meringues, broken into pieces
1. In a liquidiser, puree the halved strawberries, vanilla, orange, balsamic vinegar, first amount of sugar (1 tbsp) and salt.
2. Transfer to a saucepan and cook slightly to deepen the colour. Pass through a sieve and chill.
3. In a mixing bowl, whisk the thickened cream and second amount of sugar until stiff, then fold through the diced strawberries.
4. Add the meringues, start to fold, then pour in the puree (keeping 50ml back for garnish). Continue to fold until a ripple effect is formed.
5. Shape on to a platter, scatter over any remaining bits of meringue, drizzle with the remaining puree and dust with icing sugar.