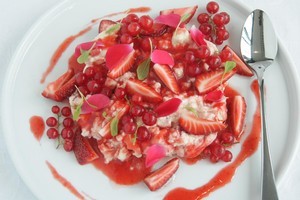 It's Boxing Day, and that means all that Christmas over-catering has officially become leftovers. And the beauty of leftovers is that they can lead to some spontaneous and creative-but-relaxed cooking.
For a start, the first rule of Boxing Day is that whoever did the cooking for Christmas dinner gets the day off. The second rule is that everyone deserves a sleep-in, especially this year. I mean it's Sunday, for heaven's sake. Those two rules mean the first meal of the day is likely to be a tasty brunch knocked together by the blokes.
And it doesn't have to be a complete re-hash of Christmas Day. To match the general "lounging about" mood of Boxing Day, make sure the kitchen is stocked with saviours like pita pockets that are the basis of fast, simple bites.
Pita pockets can be filled with tahini spreads, homemade chutneys, stripped roast turkey or chicken, grated carrot and wilted baby spinach.
Shave some meat from a leg of lamb and drop it on to a slab of Turkish bread together with onions that have been sauteed on the barbecue.
Add slices of bocconcini cheese and a scattering of Parmesan and grill until golden.
Coat pieces of fish in Japanese breadcrumbs (panko) with chopped, flat-leaf parsley, grilled limes and a little aioli.
Leftover ham on the bone is best destined for one of two options: sliced with hot English mustard, iceberg lettuce and a little sauerkraut between slices of chunky sourdough; or diced and sauteed until crunchy on the outside and served with corn kernels shaved from the cob, fresh peas, thyme leaves, cooked brown rice and a good dose of agave syrup.
And once you're down to a fridge full of little bits of everything, try an upside-down pie.
Grease and flour a deep saute pan (cast-iron pans are terrific for this). Line the pan with a sheet of ready-rolled puff pastry so that it is overflowing the pan sides, then randomly throw into the centre chopped, cooked vegetables, bits of meat or leftover seafood, diced colby or feta cheese and loads of herbs. Beat six large eggs with two cups of sour cream, then pour the mixture over the top of the other ingredients.
Pull the pastry up and over the pie filling, then cover with another sheet of pastry. Seal the pie over a hot element for two minutes, then finish it in a 170C oven for 30-40 minutes, or until firm. Turn the pie out, upside-down, on to a chopping board and cut into wedges.
For dessert, used any leftover pavlova and/or meringues to make an Eton mess.
Alternatively, get someone out on the briny and bringing home some fresh fish. After all that, there'll be no need to eat at all tomorrow.