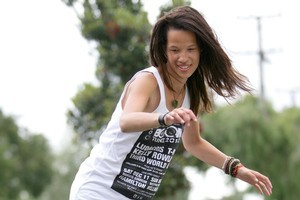 All Danielle Hayes wanted for Christmas was a RipStik.
And that's the thing about being New Zealand's Next Top Model, a stranger just made her wish come true - leaving one of the twisty skateboards, a cross between snowboarding and surfing, at her modelling agency.
Hayes, 19, whose Twitter following is growing by the day, tweeted that she wanted a Ripstik board for Christmas.
And bingo, the boys from Planet Fun delivered one to 62 Models with Hayes' name on it.
She's fallen off plenty of times while trying to get the hang of it.
"It's scary because I'm just under 6 foot tall so I've got further to fall."
Then there's the Ray-bans and pairs of designer jeans - which she wears with jandals.
"That's the new trend, I'm bringing it out."
Hayes is getting her hair straightened at a Ponsonby salon while talking on the phone to the Herald on Sunday. Her friend Lance, who works for Servilles, persuaded her to give it a go.
Auckland's muggy weather means her hair has gone "out of control", sort of "boofy".
"That's an understatement," Lance interjects in the background. "It's frizzy, not boofy."
Shortly before, Lance has singed her ear with the GHDs. Who needs enemies when you can have friends like that? But Hayes isn't bothered.
Much was written about her staunchness on Next Top Model, her freckles, her first attempts to walk in high heels, her bungles in front of the camera.
It was that endearing gawkiness that won her favour and has been going down well with fans at shopping malls as she fulfils her contract obligations with Covergirl.
And what else? A photo shoot with Outrageous Fortune actor Antony Starr and Auckland Mayor Len Brown for this month's cover of Metro. And the inside.
"But I'm right by the crease so you can't actually see me."
This week Hayes was looking forward to going home to be with her family in Whakatane and hoovering up her mum's famous kumara dish.
So what's in it?
"Ah, kumara?"
Hayes has no idea how her mother, Trina, makes it but she thinks it might have cream in it, it's definitely baked and it has cheese on top.
"It's real fattening, really nice."
Eating carrot sticks and cottage cheese hasn't occurred to this newest model.
"My body can't seem to put on weight so I guess that's a bonus for me."
Although modelling contracts haven't exactly come in thick and fast, it's early days and anyway Hayes is heading for the beach after Christmas - Ohope, Papamoa and Mt Maunganui. The only workout she's likely to get is playing touch rugby and volleyball with her mates.
And there's nothing glamorous about her New Year plans. She'll be pitching a tent at Raglan with friends to "live like a bum for a week".
The makeup kit will be left behind, and Lance and his straighteners won't be welcome.
Not that Hayes minds her new life.
It's "sweet as", she says.
Her family think so too. They're "really proud" of her, although brother Ryan spent her last visit home sashaying down the hallway "trying to strut his stuff like he was walking on the runway. I just told him to stick to his farming".