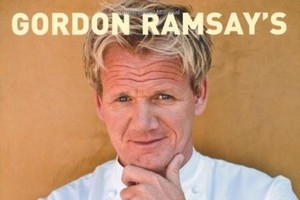 Gordon Ramsay might be dropping an f-word or two after he topped a US doctors' list of the worst cookbooks of the year.
The food in Gordon Ramsay's World Kitchen: Recipes from the F-Word has been given a scathing review by the Physicians Committee for Responsible Medicine.
Calling it a recipe for disaster, it says: "Ramsay has travelled to the ends of the earth to bring back dishes that will wreak havoc on your health".
His British Pheasant Casserole made with two birds, smoked bacon and butter and cream was blasted.
Also slammed in the report was country singer Trisha Yearwood's Home Cooking, said to be "loaded with fat and cholesterol", the doctors declared.
Her book includes a dish with eight large eggs, 450g of bacon, 450g of sausage, cheese tortellini, cheddar cheese and butter.
"They use some of the worst possible ingredients in terms of nutritional profiles," said nutrition education director Susan Levin.
Food Network star Ina Garten is likened to a murderer of vegetables for her Barefoot Contessa: How Easy Is That?
"She weaponises simple, healthy vegetables with high-fat meat and dairy products," the review said.
The Primal Blueprint, meanwhile, "sets back evidence-based nutrition nearly two million years".
It includes "a section of cholesterol-laden recipes for offal - entrails and internal organs".
FIVE WORST COOKBOOKS OF 2010
* World Kitchen by Gordon Ramsay
* Barefoot Contessa: How Easy is That? by Ina Garten
* Home Cooking by Trisha Yearwood
* How to Cook Like a Top Chef from the makers of Top Chef
* The Primal Blueprint Cookbook by Mark Sisson and Jennifer Meier