It's the most steadfast of Kiwi Christmas traditions. But the pavlova can also be a little tricky to master. Here are some tips from a newly crowned expert.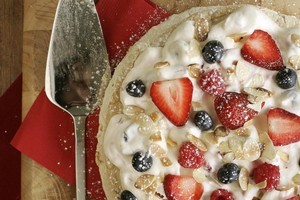 The pav is the crowning jewel of Kiwi tables for the celebrated Christmas lunch. Family recipes are handed down under strict secrecy from generation to generation - adapted or discarded at your peril. And heaven help the Christmas cook who breaks with tradition and makes tiramisu instead.
The pav is even more sacred to Kiwis this year with the Oxford English Dictionary officially recording that the pav did indeed originate here and not across the Tassie.
Aucklanders this week rose to a challenge to create their best pavlova in the second annual Nosh Food Market Pavlova Competition. More than 45 foodies - including eight-year-old Three Kings Primary School student Jared Matthias - descended on Nosh Mt Eden to have their meringue masterpieces - decorated to a Christmas theme - judged by a select panel of foodies.
Simplicity won on the day. First prize went to a classic Christmas pav with a perfect meringue centre and a thin crispy crust with fresh berries and cream.
Winner Heather Hamilton from St John's has been using the same recipe for more than 40 years.
Here are the champ's tips for perfect pav:
* Using less sugar will make your pav marshmallowier with a thinner crust. If you want a thicker crust, or if it is humid outside, increase sugar quantity by 20g or so.
* Know your oeven. Every oven is different and you have to adapt to make a pav work. If it starts ballooning it means the oven is too hot - and what goes up must come down.
* Avoid cooking pav when it's humid.
* It's best to beat the egg whites at room temperature - which is why the hot water helps.
* Egg whites freeze well and once thawed beat up nicely for a pavlova.
Heather's winning pavlova recipe:
350g egg whites (approx. 8 or 9 eggs depending on size)
35g hot water
400g-450g sugar
1 Tbsp vinegar
2 tsp vanilla
1. Put the egg whites in bowl and add hot water. Begin beating, gradually adding sugar while beating.
2. Add vinegar and vanilla towards the end of the sugar, then finish beating in the remaining sugar. Ensure the mixture is thoroughly whisked before assembling on oven tray.
3. Bake at between 160C - 180C for the first 10 minutes then decrease temperature to approx 130C (depending on your oven) and bake for 1 1/2 hours.