Address: Shed 22, Princes Wharf
Phone: (09) 309 9866
Web: eurobar.co.nz
Cuisine: Modern cuisine
Rating: 8/10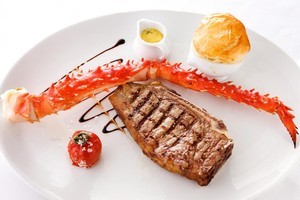 Arriving at Euro on Princes Wharf, I am instantly aware that this is a massive operation. It has always been popular but with the rise of its star, owner and chef Simon Gault, it's packed on the week night we visit. It was always a big space but now, by merging with the Green Room and extending through to Pasha next door, Euro feels like an infinity bar.
We have no booking but the sleek maitre d', complete with Secret Service ear-piece, studiously examines his table plan then announces we can have a table in a prime location outside, but we'll need to vacate it within two hours.
Our waiter for the evening epitomises the service at this restaurant - sharp, hip, friendly and efficient. He suggests we start with the breads. Good call, they were outstanding, and a steal at $8.50 given the quality (Rachel Scott's magnificent ciabatta), and that it arrives in a basket with dishes of smashed olives, a mushroom truffle soft cheese, Santagata extra virgin olive oil and the first gimmick of the night - a tube, branded with Euro's red star, of smoked paprika and pork mousse.
There are cute gimmicks all over this place - from the fries that are served in mini wire baskets just like at your local fish 'n' chip shop, to the tall, uber-cool female DJ discreetly dropping tunes in a corner of the outside area.
The menu is extensive and all bases and tastes are catered for. There's pasta and pizza, salads, steaks and plenty of dishes that show off the culinary genius of head chef Eugene Hamilton, as well as the fact that Gault and his team are fans of molecular gastronomy.
We, however, didn't veer too far from the classics. My prawn cocktail starter was creatively served with small plastic pipettes, filled with a spicy smoked paprika Bloody Mary, protruding from the head of each prawn, the idea being to inject the prawn with the sauce. Great presentation but the prawns had a slightly floury texture instead of being firm to the bite. The starter of three plump scallops (dived for, not dredged) set on a three-caviar risotto with pickled ginger was divine. Caramelised in butter, burnt until nutty, these "queen of shellfish" were wonderfully sweet.
I'd long heard about the famous SG rotisserie chicken so couldn't go past it for my main. The chicken was fabulously moist and tasty, the flesh full of free-range integrity and it fell easily away from the bones. The peanut coleslaw it came with sagged under the weight of the dressing, could have been a few degrees cooler and featured a few more, fresher, peanuts.
Perhaps I was just having food envy because over the table my dinner pal was tucking into a version of surf and turf that was nothing short of superb.
A New York strip steak on the bone, topped with a red king crab claw. The steak had been cooked sous vide (where food is vacuum sealed in a bag then cooked in a water bath at strictly controlled temperatures to ensure texture and integrity of flavour is preserved) before being slapped on the grill for colour and char-grill flavour. I had one mouthful and the combination of grilled beef and salty crab was incredible.
So slick was the service that we even had time to fit in desserts - a more than satisfactory brulee and a molecularised floating island.
Euro, sitting on our shimmering waterfront, is like a celebrity.
It looks fabulous, is larger than life and attracts both locals and international visitors alike.
From the menu: Diver scallops $25, prawn cocktail $19.50, rotisserie chicken $30, New York strip $36, King crab $25, brulee trio $16, mango island $16.
Drinks: Fully licensed.