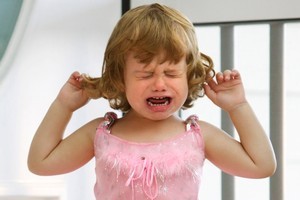 The other day I ended up piggy-backing Mia while jogging home in the pouring rain carrying her scooter as she wiped her sticky ice block hands all over me. She was also whining in my ear about getting wet. Ah yes, the things we do for our kids, and the things we put up with from them.
It was one of those times as a parent when you love them to bits, but you don't particularly like them that much.
It got me thinking about the good, the bad, the ugly, and the ever-so cute moments of my little Mia's past year.
And since it's the season for end of year lists, here's my top 5 Mia moments of 2010:
1. "Mummy, daddy, look," she says. My wife and I turn around and there she is standing in nothing but her undies with a tennis ball stuffed down the front of them. Even better than Borat.
2. Meet Olive. She's Mia's alter ego. Olive is a dog who walks around the house going "woof, woof", and sometimes does naughty things like burping and farting.
Poor Olive, Mia blames all the bad things on her. For the record, the real Olive lives down the road from us and even though Mia has only met her twice they are already best mates.
3. Use your manners please.
"What?"
Pardon me. Use your manners Mia.
"Huh?"
We don't use that word. We say pardon.
"What?"
How do you ask nicely?
"Please may I have an ice block?"
Yes, but you have to be a good girl.
"Can I have an ice block. Can I. Can I. Can I."
There won't be anything if you carry on like that. "Sorry daddy. Can I please have an ice block."
There's nothing like a little bribery to bring wee Mia Moo Moo round, even if I do sound exactly like my mother used to when she was teaching me my pleases and thanks yous.
4. Falling off her scooter, skinning her knee, and not crying. That's my girl. Then again, she made up for it that night when she refused to have a bath. It's fair enough too, because I remember the agony of having to put my freshly grazed knees and elbows under the water. She sure threw a defiant wobbly and there was no way she was getting in. I know I shouldn't laugh but kids' melt downs really are hilarious.
5. Looking lovely in her pink fairy dress, head banging, and dancing round the lounge to lurching and heaving Shihad song The Final Year of the Universe. It's good to know that the kid is alright.