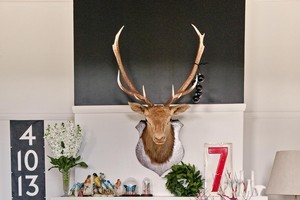 In her work as an event stylist, Sonia Couling can let her imagination run wild, and that approach has helped her when it comes to decorating her Warkworth home.
Couling helps to set the stage for parties, sourcing props and accessories to transform dowdy function rooms into dramatic settings.
"My work has helped me think outside the square," she says. "And it has taught me to source fabulous things on a budget by looking in unexpected places."
And that's what she's done with the home she and husband Chris bought less than a year ago.
The couple left Northcote Point, on Auckland's North Shore, for the village atmosphere of Warkworth and its proximity to some of their favourite beaches and vineyards.
They have already changed the decor of the solid concrete plantation-style house they bought.
"We loved the feel of it, being over 100 years old with high ceilings and a veranda," says Couling. "We have always admired the old Australian Queenslanders, and this house reminded us of them. It has a lot of character."
While the house exuded warmth, the interiors felt cold and were in desperate need of a new colour scheme. "Every room had at least two different colours on the walls, so we wanted to make it more uniform."
They began their makeover in the living room because that is where they spend most of their time.
"The yellow and plum walls had to go," says Couling. "We started with white walls and plush black carpet, then added yellow french doors and a panel of black above the fireplace to give depth to the room."
They have now repainted most rooms in the house, choosing mainly white walls to create flow but adding colour on the ceilings.
"Our favourite is the kitchen ceiling, which has tomato-red stripes, like a circus tent. This suits the rustic country kitchen, old stove and vintage signs and china."
There are exceptions to the white-wall rule: the duck-egg blue hallway, a black bathroom and the vivid blue dining room. It's a bold blue as we wanted something rich and inviting, especially in winter with a roaring fire," says Couling.
"It was a risky move but it has become our favourite room."
With the backgrounds sorted, Couling turned her eye to filling the home with her favourite vintage pieces.
"I buy things because they have a sense of fun or charm," she says. "I am drawn to things with character and texture and try to display them in groups."
Style tips
Maintain focus: Sticking to a theme makes shopping easier.
Be bold: The Coulings painted their entire dining room blue after finding that the contrasting white fireplace and window surrounds were harder on the eye than the all-blue effect.
Get experimental: "Don't be afraid to experiment with colour," says Couling. "Try it in unexpected places. If you love it on the chart, try it on the wall, live with it for a while and if you're not happy, it's just a weekend with a paintbrush to transform it again."
Leanne Moore is the editor of Your Home & Garden. See the latest issue, on sale now, for more achievable home ideas.