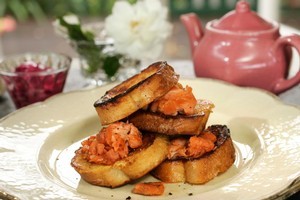 Breakfast bounty
Start the festive day with smoked salmon in an omelette or scrambled eggs, layered on top of potato cakes or hash, or with corn or zucchini fritters. Classic paired with toasted bagels and cream cheese or stacked on savoury pancakes with sour cream and dill. Stir through kedgeree or stack on eggs benedict.
Luncheon luxury
Reinvent old-fashioned smoked salmon and cucumber sandwiches or modern wraps, or try a Japanese-style omelette wrapped around sprouts and sliced pepper.
Finger food
Pile on to blinis, mini tart cases or cucumber slices with cream cheese or sour cream for easy canapes. Wrap around grissini sticks with cream cheese.
Available from Countdown.