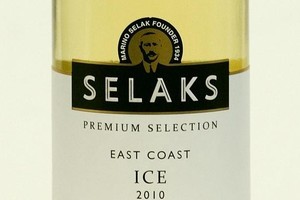 Despite being enveloped in the bosom of one of the world's largest wine conglomerates, Selaks still holds a sentimental place in the hearts and minds of the New Zealand wine-buying public.
One of the West Auckland Croatian wine pioneers where outrageous fortunes were figments of everyone's imagination, the majority of the grapes now come from further afield.
It all started when the distinguished-looking Marino Selak set foot on New Zealand soil in 1906. While perplexed at the lack of olive oil and traditional Croatian food, it was the alarming absence of wine that disturbed him most.
Land was duly purchased and a market garden, orchard and vineyard sprang up. Marino's picture still adorns the Selaks label but he'd be astonished at what has happened in the last 100-plus years.
The sherry and port phase morphed into light table wines, a smart winery was built in Marlborough and now the Selaks portfolio includes a swag of wines from grapes grown hither and yon.
A major distinguishing characteristic of Selaks wines is the ability to deliver good quality, well-made wines at affordable prices.
The Winemakers Favourite selection manages to produce delightful, easy-drinking, well-crafted wines all of which sell for between $15 and $20. Supermarkets can sell them even cheaper, in which case you are assured quality at a remarkable price.
An old stand-out for me is the dessert ice wine.
Given that a genuine ice wine needs to be made from grapes that are allowed to freeze on the vine (usually when temperatures fall to around -5 degrees), Selaks make it by freezing the juice of the grapes since our temperatures seldom become so cold for extended periods. The result has consistently produced a real stunner. From now they will brand this wine simply as "Ice".
Picky, I know but these are picky times.
Currently you can find merlot-cabernet, viognier, chardonnay, syrah, bubbles, sauvignon, pinot gris and pinot noir.
Enough to put a smile on Marino's stern visage, I would have thought.
RECOMMENDED
Selaks Premium Selection East Coast Ice 2010, $15-$20
Made predominantly from riesling and gewurztraminer grapes, this wine has a cult following. Elegant, sweet but not cloying and with enough acidity to keep it fresh, vibrant, crisp and clean.
Selaks Winemaker's Favourite Hawkes Bay Syrah 2009, $15-$20
Won gold at the Air NZ Wine Awards 2010. A lighter style syrah with big pepper aromas and hints of mocha. This is a well-balanced, medium-bodied wine. Perfect with pasta and beef.