Herald on Sunday rating: 4/5
Address: 49a Sharp Road
Phone: (09) 422 7915
Website: plumerestaurant.co.nz
Open: Brunch/lunch daily 11am; dinner Thursday-Saturday.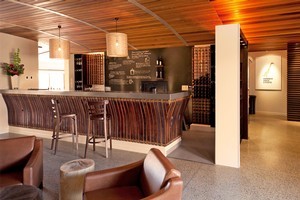 If by any chance we were to find any money to spend on the region's transport infrastructure, it would make more sense putting it into a rail tunnel into Auckland's CBD than extending the "holiday highway" beyond the twin tunnels and up as far as Wellsford.
But the bit of toll road they've done already has certainly shrunk the trip between Auckland and Warkworth. Outside rush hour, it's only 45 minutes, even with the Professor at the wheel of our ancient Corolla; people who live in Henderson and work in the city probably dream of a drive that short.
Warkworth, of course, is the jumping-off point for what they call the Matakana Coast. It's an area they tried to brand as New Zealand's Tuscany, which I always found irritating because of the cultural cringe it implied, but mercifully that name seems to have fallen out of favour.
The area is home to a dozen wineries of various sizes, some of which have platter-type nibbles, but Ascension's Oak Grill, a fine place for a long lunch, has long been the only substantial vineyard restaurant.
That changed in October with the opening of Plume, a joint venture between the owners of Heron's Flight Vineyard and nearby Runner Duck Estate.
It's a marriage made in heaven, and their own wines, with a commendably small markup, dominate the compact list: Heron's Flight has several years of its sangiovese that are not available at retail level and Runner Duck specialises in syrah.
Plume occupies the building that was Heron's Flight's cafe, though it's had an impressive facelift and is usefully divided into several spaces so large parties won't disturb private diners. And the view - did I hear someone mention Tuscany?
The attention to detail that characterises the refit has carried over into the operation: service is slick and staff can talk about the food and wine without acting all snobby and up themselves.
Meanwhile, Sicilian-born and French-trained chef Gaetano Francelle discharges his duties with a sure sense of drama. As he puts the finishing touches on dishes at a servery plainly visible from the restaurant, he moves by turns like a bullfighter and a ballet dancer, and the occasional eruption - plume, even - of flame from the pans behind him adds to the effect.
Of the food, it is easy to be warm, without being ecstatic. There is nothing here to hugely excite the imagination, except perhaps the lamb rump (marinated in yoghurt and mint and sharpened with spiced lemon), though there was a stuffed quail on the specials list the night we were there.
But what the menu lacks in adventurousness it makes up in top-flight execution. Francelle and his team, sous-chef Kahui Cassidy and chef Christoph Mehlberg, are a class act.
The kingfish came with jersey bennies, chorizo and tomato; the pappardelle with olive oil, lemon juice and excellent parmesan was a triumphant demonstration of how simple food can be sublime when all the ingredients are top-notch; the beef worked just fine, even if it was a trifle overdone.
Earlier we'd enjoyed plump Mahurangi oysters accompanied by shot glasses of vodka and Tabasco (like sending your sinuses to Arizona) and shallot vinegar; a creamy pork-and-duck rillette (like a pate); and a generous halloumi and watercress salad. The Heron's Flight Dolcetto worked well with everything. That syrah will have to wait until a second visit to this excellent country kitchen.
Ambience: Upmarket but relaxed
Vegetarians: Pasta
Watch out for: The view
Bottom line: Worth the drive
THE BILL
$257 for four
Halloumi salad: $20
Oysters (12): $31
Rillette: $23
Fish (two): $72
Pasta: $29
Beef: $37
Wine (one bottle): $45