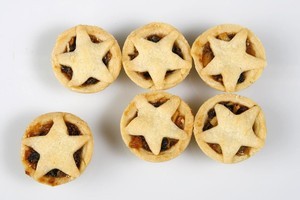 1. Zarbo
24 Morrow St, Newmarket. Ph (09) 520 2721
Zarbo's bakers have thoughtfully offered their traditional mince pies in a gluten-free version (six-pack of mini tarts, $18.95) as well as their traditional offerings of mini tarts (four-pack, $7.50), gift-wrapped, tree-trimmed larger tarts (six-pack, $13.95; dozen, $25.95). Or indulge in a single tart ($3.50). Buy jars of mincemeat to stir through icecream for a festive dessert, nut and suet free.
2. cakesonline.co.nz
Cheryl Thomas, who has been baking her tarts for over 20 years, is now online. Grated carrots and apples and Guinness are her secrets for the rich mince, the buttery pastry has eggs to lighten it. Mini mouthfuls of heaven, box of 25, $55. (Online or ph (09) 280 6100 for message service).
3. Diehls bakery
5/65 Hillside Rd, Glenfield. Ph (09) 443 7992
While German marzipan and fruit-filled stollen are the festive mainstays of this German bakery, mince pies have a special twist: shortbread casing (buttery, eggy) and the mince is macerated in rum.
Stollen, $29; mince pies $2.50 each.
4. Little Cake Kitchen
46 Upper Queen St, Auckland. Ph (09) 356 3668
Her 92-year-old mother's fruit mince recipe - with classical suet, but no nuts - is Maggie Mowbray's secret to her buttery mouthfuls of mince tarts. Small bites, $2.50; large tarts $3; gift boxes of six, $16.50; one dozen, $31.50.