Christmas is a good excuse to stock the cellar - and splash out on something extra special.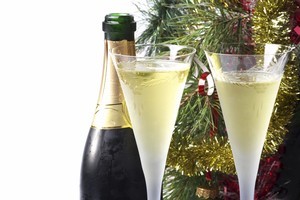 Christmas time, mistletoe and wine", sang vintage crooner-cum-vigneron, Cliff Richard, who'll probably be quaffing from the cellars of his Algarve estate this yuletide. But have you thought about what you'll be drinking on your summer holidays yet?
It pays to plan ahead and buy in a variety of styles that will suit our varied festive fare and range of seasonal celebrations. Don't be afraid to venture into the unknown or get something special in for the big day - if you can't be daring and splash out at Christmas, when can you?
It's also worth sourcing a selection of more everyday drops to have on hand for the season's informal gatherings and barbecues, or if you're expecting a stream of guests and don't want to break the bank.
However, your wine bill this year may not be as big as you bargained for. The current combination of wine oversupply and economic woes, is bringing cheer to Christmas wine shoppers in the form of some very smart deals across all price levels. These are also making this time of year a great time to stock up for the future, if cashflow's not too tight.
So when thinking about the food you'll be feasting on this festive season, don't forget to put wine on your shopping list. Here are some scrumptious suggestions to get you started.
Jackson Estate Grey Ghost Marlborough Sauvignon Blanc 2009 $30
Classic Marlborough sauvignons, with their punchy notes of passionfruit and herb, are great with salads, asparagus and dishes featuring Thai spices. However, a more textural style, such as Jackson Estate's Grey Ghost, which has harnessed wild rather than cultured yeasts and been partially fermented in barrel, are arguably even more versatile. Weightier and creamier in the mouth than many, this subtle and elegant sauvignon combines nuances of stonefruit with vibrant grapefruit, smoke and flint. As well as being fantastic with fish, shellfish and chicken, Grey Ghost won't be scared off by deeper smoky or flame-grilled flavours. (From Point Wines, Nosh, Bacchus, Liquorland New Market, Hobson Liquor.)
Conspiracy Waitaki Valley Riesling 2008 $11.99
Invest in some riesling for the holidays and this great all-rounder of a grape variety will cover many bases. This delicious off-dry example gets the juices flowing as an aperitif, works well with Asian flavours and is divine with duck or goose, as well as fruit-based desserts. Racy and intensely flavoured, it hails from the cool and up-and-coming Waitaki region in North Otago and delivers swathes of mandarin fruit, zesty lime, notes of ginger spice and mineral. So what's the conspiracy surrounding this particularly sharp deal? Under its own name it retails for $24.99, but the anonymity bestowed by bestwinebuys' anonymous label, means it can found here at less that half price - cheap enough to make it your house pour this Christmas. (From bestwinebuys.co.nz)
Mon Cellier Marlborough Pinot Gris 2010 $24.99
A fabulously fresh and pure pinot gris from the relatively new label of winemaker Greg Rowdon and Matua Valley co-founder Bill Spence. There's real depth and complexity to this example, with its succulent stonefruit, juicy lemon, hints of honeysuckle and slaty spicy undercurrent. Made in a dry style, it's also able to partner a wide range of dishes from seafood to vegetables, pates and terrines, to poultry in richer sauces. (From Glengarry, Whitianga Hotel Liquor Centre, Ohope Wines & Spirits, Coopers Beach Liquormart, Maskell Street Liquor, Hauraki Corner Liquor Shop, Silverdale Liquor, Village Wine Trader, Super Liquor, Liquor Centre.)
Sacred Hill Riflemans Hawkes Bay Chardonnay 2009 $54.99
If you're going to treat yourself to a top chardonnay this Christmas then the 2009 vintage of Sacred Hill's iconic Riflemans is looking stunning. Just at the start of what should be its long and rewarding life, it's a substantial and concentrated wine in which rich toasty creamy notes and ripe peach are reined in by its exhilarating line of citrus and mineral. A big barrel-fermented style like this is the traditional wine partner to turkey. (From Glengarry and other fine wine outlets.)
Mount Difficulty Single Vineyard Long Gully Central Otago Pinot Noir 2008 $90
Mount Difficulty's single vineyard Long Gully pinot noir is another local legend to be found in fine fettle, to cellar or to savour now with game birds, turkey leg meat, cold cuts and fuller flavoured fish. Strands of fragrant florals and bright cherries are interwoven with threads of forest floor and spice, in this seductively silky and very fine wine. (From Glengarry, Caro's.)
Alluviale Gimblett Road Hawkes Bay Red 2008 $30
Another impressive release from the Franco-Kiwi partnership of winemakers, David Ramonteu and Kate Galloway. This svelte and satiny blend of merlot, cabernet sauvignon and cabernet franc, combines fragrant damson and berry fruit with hints of violet and chocolate draped over a frame of fine tannins. A wine that would rise to the occasion with red meats such as spring lamb or game. (From Maison Vauron, Caro's, Wine Vault, alluviale.com)
Brookfields Sun-Dried Hawkes Bay Malbec 2009 $25
"Malbec on steroids" is the way its maker, Peter Robertson describes this example of the variety that he's made in a similar way to Italy's intense Amarones. Grapes for the wine were laid out to dry and raisin in the sun, resulting in a rich and concentrated wine whose fruit spectrum ranges from ripe dark cherry and plum to full on fruitcake, with sweet spice and hints of sandalwoody oak supported by some structuring tannins. Although made from sweet fruit it's dry, meaning it's a good match for lamb or steak, or even try it with something chocolaty. (From Glengarry.)
Yalumba Eden Valley Shiraz Viognier 2008 $18.95
Beer is not the only accompaniment to a barbecue - bring out a ripe, robustly flavoured and sweetly fruited wine that can stand up to the sweet, charred and intense characters of barbecued food. This shiraz, with a dash of aromatic viognier, is a beaut of a barbecue wine with its rich and soft dark berry fruit seasoned with spice and licorice and a juiciness that suits summer temperatures. (Widely available from supermarkets, Liquor King, Liquorland, First Glass.)
Jacob's Creek Sparkling Rose Moscato NV $15.95
A sweet, light, low alcohol wine that exudes the fun of the holiday season. With its pretty aromatic palate full of soft red fruits, hints of floral and a fresh citrussy lift, it's perfect for pavlova and other fruity desserts. (Widely available nationwide from liquor outlets.)
Johanneshof Cellars Marlborough Vendange Tardive Gewurztraminer 2009 $29
From Marlborough's gewurztraminer gurus Johanneshof comes this beautifully aromatic dessert example. Heady florals, notes of Turkish delight and a fresh edge of grapefruit zest run through a rich, pure and unctuous palate that finishes with a fresh flourish. Drink with pates and a variety of richer desserts. (From Bacchus Cellars, Caro's, Kumeu Cellars, Super Liquor Poenamo, Cambridge Fine Wine Company, Primo Vino.)
Trinity Hill Gimblett Gravels Hawkes Bay Touriga 2007 $65
Made from one of the traditional port grape varieties, Touriga Nacional, this decadently rich and sweet Hawkes Bay fortified is ripe for enjoying with Christmas pudding or a strong blue cheese. Bright notes of blackberry and briar fruits, candied peel and spice are supported by its warming but well integrated 18 per cent alcohol and touch of tannin. Ready to enjoy this season or to be squirrelled away for Christmases to come. (From trinityhill.co.nz)