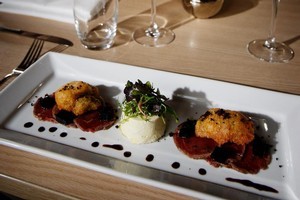 Now we come from a Super City with a Party Central, Aucklanders have to be more sensitive than ever about giving ourselves airs when south of the Bombay Hills. So it was with a certain nervousness that we trotted into one of Hamilton's best-rated restaurants. If we didn't like it, the suspicion of Jafa sneering would raise its head.
We need not have worried. Not only was Palate well worth the visit but on a quiet Tuesday, when some Auckland eating centres seem haunted only by a few stragglers from a zombie movie, the scene at this end of the Waikato city was pretty lively. It must be really full on the weekend.
We encountered a chef with a sense of humour as well as style. Three of our dishes turned great Kiwi cliches on their head. The old standby of steak, egg and chips; lamb and mint sauce and the after-dinner mint chocolate joke were all given remodels that worked.
The egg that came with the steak arrived, soft and runny but in a crisp crumb coating. The chips were a Carl Andre arrangement and as near perfect in taste and consistency as you can imagine.
The steak was wagyu beef Scotch fillet. I can never remember exactly what the special diet and loving massage by maidens at dawn these wagyu beasts enjoy before going to their happy demise but the meat lived up to the sales pitch delivered by our knowledgeable waitress, was proficiently cooked and quite superb.
My lamb may not have had the same pampered life but the roast rump was tender and full of flavour with the traditional mint making its appearance stuffed into pasta. If I have a reservation about this sort of high-end dining it's the tendency to have trimmings that derive from traditionally substantial dishes, like cassoulet or lasagne, turning up in minuscule smears on the plate. But I admit the flavours were both excellent and complementary to the main attraction.
We had an intimation we might be in for a well-spent evening with the tasters, a veloute of potato, mushroom, bacon and chives, which prompted the response, "Delicious. I'll have a bowl of that."
In fact, I started with beef carpaccio, which was good without calling up the superlatives, and the accompanying oysters in batter escaped my usual derision at oysters being mucked about with but the blue cheese pannacotta was inspired. The tiny squares of balsamic jelly were perhaps unnecessary but the flavour was a nice foil to the richness of the oysters.
Our other first course also earned praise, Jerusalem artichoke encased in agnolotti, a Piedmontese version of ravioli, balanced with roast tomato and goat's cheese.
Although we did opt for steak and lamb, serious consideration had been given to some of the imaginative rivals - the fish with fennel and what is normally a clam chowder, although it was carefully explained they were out of clams and it would be a mussel substitute, and the honey-spiced duck with kumara and coconut puree and citrus couscous.
At dessert time, nostalgia with a difference ruled and the delightful little chocolate pudding with a mint icecream delivered.
I opted for a plate of Waikato cheeses and was glad I had it, with the Waipa blue and the brie being outstanding. And how nice it was to find that rare pleasure, a restaurant that knows how to treat cheese with respect, although I would have preferred simpler breads.
There is a good wine list with well-thought-out matches suggested for each dish and although one of ours was not available the Jim Barry Cover Drive cabernet sauvignon was a real find as was the Campbell's muscat.
The dining room is simply decorated with light wood tones and stripped brick providing a comfortable setting for some very good food delivered with professional but personable service in a restaurant of which Hamilton can be proud.
Rating out of 10

Food: 8
Service: 8
Value: 7
Ambience: 8

Our meal: $219.50 for two starters, two mains, one dessert and cheese and six glasses of wine (we weren't driving.)
Wine list: A pleasant Allan Scott sparkling sauvignon blanc, a Mills Reef syrah, and two Australians, a Jim Barry Cover Drive cab sav and a Campbells muscat, from a good list.

Verdict: Upmarket, distinctive food and service which justifies the upmarket prices.