Herald Rating: 3/5
Address: 1 Marine Pde, Mt Maunganui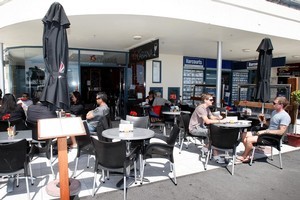 We came here because we were in the bay for the weekend and were attracted by the cute turtle logo. That and the fact that the Mount was doing a roaring trade this sunny day and Cafe Cabana offered the only available table at the time.
Parking was not an issue for us, but roadside parking is free - though at a premium when the sun's out.
We walked in and immediately thought the tables outdoors were the best bet. Cafe Cabana is one of the small outlets near the foot of the Mount, designed for outdoor eating.
The most unusual thing on the menu was a non-event. All straightforward fare here.
We ordered a toasted bagel with cream cheese, tomato and bacon ($11.50) and toasted muesli with macadamia granola served with seasonal fuit and yoghurt ($13.50). Both met expectations, and the fresh fruit was particularly delicious.
The service was basic, but they were run off their feet and working in a cramped area.
The coffee was good.
We recommend if you come here make sure it's a sunny day when you can sit outside and soak up the sea view.
Overall we thought Cafe Cabana is a fine location for watching Mount life.