Cosmetic changes to the decor gave a whole new feel to a North Shore family's home.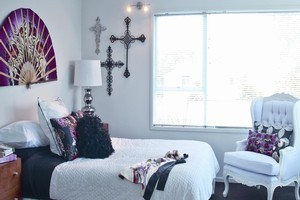 Constantly creating fresh looks has been a part of Gabrielle Insull's working life in interior design stores but it's also a philosophy she applies to her own home.
Insull, general manager of Republic in Auckland, says, "I love working in interiors - things are always changing. We keep the shop looking fresh by avoiding repeating past ranges."
And she uses a similar approach in her home, creating different looks by layering collections of homewares and art she has gathered over the years.
Her love of art was inspired by her parents, she says.
"They held the Women's Refuge charity sculpture exhibition in their garden for years."
When Insull and her then husband Brad moved into the two-storey home near Lake Pupuke on Auckland's North Shore eight years ago with daughter Lucy (now 10), they had a few cosmetic changes in mind.
The terracotta paint on the interior walls was replaced with an off-white shade. "The colour is warmer than white, which I like," says Insull.
"Art looks great against it and it is more practical than pure white for our family."
After living in the house for three years, by which time second daughter Billie (now 7) was born, the couple started looking at renovation options. But the marriage broke up soon after. Insull chose to stay in the house because it was what her daughters knew as the family home.
Knowing she could not afford to overhaul the house, she began doing affordable projects that would make a difference.
The old roof was replaced and the exterior given a fresh coat of paint, while the upstairs was reworked to create a more functional layout.
With most of the house having a colourful and fun feel to it, Insull wanted a softer, more feminine look in her bedroom.
"This is out-of-character for me, but now I like going into my bedroom as it feels like my haven."
Although Insull never saw her dream of grand-scale renovations come true, her flair for decorating has transformed this home from being something she considered pulling down, into a well laid-out home that suits family living.
Style tips
Brave choices: Create a look that stands out.
Slow process: "Layer your blank canvas over time," says Insull. "Add to it gradually until you have something you are happy with."
Accessorise: Bold colours and interesting shapes will always be eye-catching.
Leanne Moore is the editor of Your Home & Garden. See the latest issue, on sale now, for lots of great festive ideas.