Address: 69 St Georges Bay Road
Phone: (09) 366 9361
Website: lacigale.co.nz
Rating: 5/5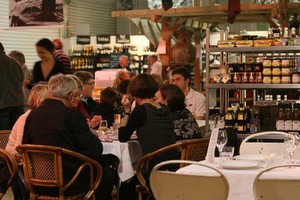 A few weeks ago, in a review of Le Garde-Manger in upper Queen St, I implied that good French food was hard to find in Auckland except in eateries founded by Alex Roux (Bouchon, Torchon, Pastis) or his alumni.
I can count myself lucky that Elizabeth and Mike Lind didn't give me a jolly good bollocking, because I'd quite forgotten their unusual venture in the little industrial quarter in the Parnell valley.
For reasons that now quite elude me, I'd never been to La Cigale (the restaurant), despite having often been to La Cigale (the market), on weekend mornings. Then someone reminded me that, in the evenings from Tuesday to Friday, the interior morphs into a restaurant that is probably best described as a warehouse bistro. The high-roofed, steel-beamed shed that the market shares with Wine Direct is fitted out with tables suitable for two or 12 and ... dinner is served.
There is no menu: two main dishes and two desserts are offered each night (you can check out the choice in advance on the website and book accordingly).
Fridays are tagine nights, except for the first of each month when fans of bouillabaisse - the fish stew that is one of the glories of Provencal cuisine - probably have to fight for tables.
We were quickly installed in a corner with an excellent view of the place while Elizabeth explained how things worked: all you need to know is that the only choice of entree is a plate of charcuterie (cold meats, salami, cornichons, etc) and if you don't fancy anything from the small, all-French wine list, you can grab something off the wine shop shelves and pay a very reasonable $10 on top of the ticket price by way of corkage.
We decided to proceed straight to the main event, but our wait was a sweet one: from the two aperitifs (the alternative was the confection of champagne and crème de cassis known as kir royale), the Professor chose the intriguingly entitled Rinquinquin.
The name, in case you're interested, doesn't rhyme with that TV dog. If you hold your nose and pronounce it as though every vowel was "a", you'll get close to it. But then you should let your nose go because the bouquet - for the first time, the word seems apt - is pure summer: peach liqueur mixed with white wine, it tastes of an afternoon doze in a hammock in the orchard.
I had to jolt the Professor awake, though, because our food had arrived, with sides of crispy, chewy, skin-on roast potato cubes and a plain green salad. The two dishes were classics of simple, tasty French bistro cooking: a fish stew, named Marmite Dieppoise for the pot it is cooked in and the town in Normandy where it originated, is firm white fish and tender mussels (shelled, as they should be) in a cider and cream sauce; and a leg of chicken, roasted to succulent yet crisp perfection sitting in a pool of mustard sauce into which I suspect some cream had also been spilled. A half-bottle of a bosomy Chateauneuf-du-Pape was the ideal accompaniment and a little creme brulee and panna cotta finished things off perfectly.
It may seem odd to give the highest rating to a meal that is so simple, unpretentious and unshowy. But credit where credit is due: La Cigale does what it sets out to do impeccably. The night we were there could not have been improved on.
Ambience: Warehouse
Vegetarians: Out of luck
Watch out for: Joie de vivre
Bottom line: Mais oui
THE BILL
$123 for two
Main courses (two): $56
Desserts (two): $22
Wine (half-bottle): $45