Stripping back a rundown Pt Chevalier home revealed its true character.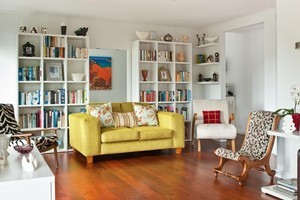 For someone who loves collecting "things of beauty", the rundown Auckland home that Leanne Wilson bought was something of a departure. "It was a real dump. My husband hated it," Wilson recalls of the 1970s home in Pt Chevalier.
"It didn't sell at auction and there were no offers. The agent phoned and asked if I'd like a second look. He was so desperate he almost begged us to put in an offer."
But Wilson could see that behind the old pale blue carpets, the dated tiles, the formica benchtops and brown wooden veneer walls there was a large home with great bones and plenty of room for a family and her collections. She convinced her husband to put in an offer - and the home was theirs. Later, when their marriage broke up, Wilson bought her husband out.
Ten years on, she lives in the house with her partner, Michael James, who had visions of creating a sleek, minimalist space when he moved in. But that plan soon went out the window because Wilson's collections have added such colour and character to the home. And now they have two little girls, the vibrant and interesting updated spaces are equally practical for family life with Penelope, 5, and Bianca, 3.
The home was given a more modern look by removing the veneer from the living room walls and painting them a crisp white. New timber flooring replaced the dated tiles.
The glass from an internal window in the living room was removed and the space left open to peep into the hallway to a painting that brings back special memories for Wilson.
"When my English grandmother died, she left me some money. Rather than spending it on the mortgage, I bought a large painting of two island women reclining by the sea, which reminds me of Fiji, where I was born."
Storage units filled with books, photos and collectables inject more colour into the room. Armchairs in different styles have been updated with low-cost contemporary fabrics.
A vibrant red glass splashback behind the hob sets the tone for the striking new kitchen. A collection of ceramic ducks flies overhead and wall vases add interest in a corner. Windows above the benchtop fold back, allowing Wilson to serve food outdoors, and to pick herbs thriving in the sunshine.
While Wilson and James' personal styles might be like chalk and cheese, they clearly enjoy the creativity involved in making their home a special place.
Style tips
Personality plus: Displaying personal items gives a house soul. "I've always collected mementos, pictures, ornaments and things of beauty. I like to create interesting contrasts by mixing up old and new," says Wilson.
Material world: She is always on the prowl for interesting fabrics for covering furniture. "Wherever I go, I am always looking out for bold, colourful fabrics - often with a vintage feel that make a strong first impression and bring the chairs back to life."
Concentrated effect: Collections of certain styles of ornaments create interest. Wilson likes to collect beautiful china made by Beswick, Spode, Poole, Crown Lynn and Wedgwood.
Leanne Moore is the editor of Your Home & Garden. See the latest issue, on sale now, for more ideas for your home.