Address: 5 Averill Ave, Kohimarama
Phone: (09) 528 3859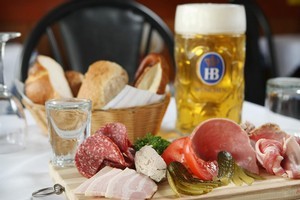 We didn't mention the war. There was no need really, the young waitresses weren't even remotely Germanic and in all likelihood had never heard of World War II.
In fact, it seemed they hadn't heard of much. When Bill asked about an item on the extensive beer menu, he was politely informed that it was a beer. Eddie and Sarah ordered dark beers and were served wheat beers. When asked if I had ordered German wine, my negative response was taken as a good thing, because there wasn't any.
But all of this was outside. Inside was a complete revelation. Photographs, beer advertisements and deer trophies complete with antlers covered every available inch of wall space. In pride of place was a large, badly executed portrait of Ludvig II, Mad King Ludvig as he became known, beside a faded photo of one of his excesses, the castle of Neuschwanstein. It was kitsch taken to towering heights. The background music was a pastiche of yodelling, oompah, and maudlin ballads.
But we were here to eat. The menu covered the usual German offerings - sausages in various guises, spatzle, schnitzel, potatoes and cabbage.
We had been warned about the size of the meals, so decided to order the Brettlejause entree platter to share between us. The menu said that it came with a glass of schnapps. So it did - one glass between the four of us, even though we had made it clear that we were going to share. The platter itself held a few pieces of smoked but uncooked bacon, some decent cold roast pork (hard to ruin that), a tasteless cheese dip, a few slices of salami, and - wonder of wonders - a rather good liverwurst. With the black bread, it sufficed.
We ordered our mains and drinks, and sat back to wait. And wait, wait and wait. The place was doing good business, full on a Wednesday night, and there were only two waitresses. Even allowing for that, the service was about as slow as a Volkswagen Beetle in first gear travelling up an alpine slope.
Eventually dinner arrived. I'll be brief. My wiener schnitzel was pork, deep-fried with the resultant curled edge. The potato salad was very good. Eddie's venison medallions in cranberry mushroom sauce (not a recommended mix) were tough to the point of inedibility, and tasteless. Sarah's gulasch compensated by being over-seasoned and very salty. Only Bill came through relatively unscathed; his pork medallions, again in the dreaded cranberry mushroom sauce, were okay, but the sauce was thin. The side salad was undressed.
The waitress checked that the chef was still on the premises - good news, he was - and, after some time, the desserts arrived.
Sarah's creme brulee was nothing more than caramel instant pudding with sugar on the top. No crunch, just a bend of the crust. The filling in Bill's apfelstrudel was passable, the pastry was not.
The indignities continued. When Bill went to the bathroom, he found one of the waitresses changing her clothes in preparation for a hurried exit. Who could blame her?
To repeat, the restaurant was full, on a week night. There are other, better restaurants in Kohimarama. Why was everyone here?
Rating out of 10
Food: 3
Service: 3
Value: 5
Ambience: 7

Our meal: $238.20 for a shared entree, four mains, two desserts, three glasses of wine, four beers, three liqueurs.
Wine list: New Zealand and Australian wines available by the glass, German wine not available at all. A very long beer list with no explanations, either on the list or from the staff.
Verdict: Der Metz (named after a town in France) appears to be very popular with the locals. I can't imagine why.