Sally Meikle's sweet inspiration has taken off into a tasty little business.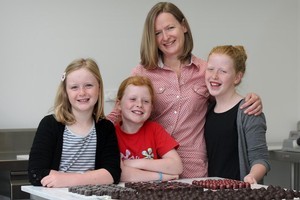 Sports coaches at Maungawhau School in Mt Eden had best keep their eye on the ball or, better still, start pounding the fields along with their young charges. Local mum Sally Meikle has sold several boxes of her handmade, hand-decorated chocolates to fellow school mothers as end-of-term gifts and she finds these moreish morsels are gobbled up before they can reach their full-time shelf life of six weeks.
Sally is a dyed-in the-wool chocoholic. "As a child I would often raid the pantry in the dead of the night to take sneaky nibbles of Dad's stash of milk chocolate. Yet there's no need for her three girls - Millie (11), Isabella (9) and Sophia (7) - to resort to such underhand tactics. Their mum's youthful obsession has in adulthood been translated into a boutique chocolate-making business. Often after school the enterprise becomes a family affair with the kids helping to lay out and fill the truffle cases. Of course, sampling the new flavours is an integral part of the ongoing research that needs to be done.
Growing up on a farm in Methven, Sally had many opportunities to indulge her sweet tooth.
Her mum was a classic farmhouse cook who loved to make fudge, truffle balls and decadent chop-chip cookies for which she was famous. From the age of 10, Sally was allowed to make and bake on her own. While her brother and sister helped out with the cows, she stayed in the kitchen baking bacon and egg pies.
"Pizza was also a specialty of mine and I'm sure my family and the farm workers who lived with us got jolly sick of them in the end."
With a BA from Canterbury University under her surprisingly svelte belt, Sally headed off to the UK where after a stint as a nanny, she was introduced to the fast-paced world of catering. She worked as a private caterer in Buckinghamshire then moved to London to a catering company that specialised in society events. "We did all those lovely country weddings," Sally recalls. "It was huge hours but a great group of people and I found it such a buzz."
It was here that Sally first discovered Callebaut chocolate, a Belgian brand founded in 1850. She fell in love with its qualities. "It has a gorgeous mouth feel," she explains. "And I find it wonderful to work with."
Little did she imagine while she was crafting truffles and dark chocolate ganache in guildhalls and livery halls around the English countryside that some 15 years later she'd be doing it in a studio in her own Auckland garden.
Sally took a long and circuitous route to re-discovering her passion for chocolate.
She met her husband Tim, a marketing specialist, in England and they moved in to a terraced house in Battersea. The couple returned to Christchurch where they married and lived until Tim's career lured them first to Wellington and finally Auckland.
While Sally loved being a mum to her three girls, when the youngest set off to school, she needed a bit more in her life.
That's when Tim brought home three bags of Callebaut chocolate for her to experiment with, and ignited her imagination. "I started playing with it," she remembers, "and often ended up with split chocolate and grainy messes."
The challenge of achieving a flawless chocolate gripped her. She read anything she could find, in books and on line, and there was much trial and error. "I shudder to think of those dear people, friends and family, who bought and ate my chocolates in the first year!"
Since then, Sally has been on four courses at the Savour Chocolate and Patisserie School in Melbourne and is well qualified to call herself a bona fide chocolatier.
In 2007, her suburban garage was converted into a registered kitchen and The Colestown Chocolate Company was born. She named the brand after the home she shared with Tim in Battersea - a reflection of the good times they enjoyed.
Sally still prefers to use the Belgian Callebaut rather than cheaper brands.
"I know how Callebaut feels. I can almost tell by the viscosity of it when the chocolate is tempered. Plus I love its taste, particularly the caramel tones of the milk chocolate."
She chooses her other ingredients from companies that are equally passionate about their products to create a range of flavours for her white, milk and dark chocolates. She uses French candied orange, New Zealand hazelnuts, macadamias and walnuts, butter and cream, and Heilala vanilla, grown in Tonga.
And it seems others are catching on to the taste too. As well as on-line, Sally sells her creations to foodie outlets such as Farro Fresh, Nosh, The Sweetest Chocolate Shop in Queen St and Kirkaldies in Wellington. "I'm a perfectionist. Each chocolate is a work of art that has to look pretty and special all on its own," she says.
With Tim's advice on the marketing and packaging side, and in-kitchen help, what started as a backyard business has grown so much it's has now moved to commercial premises in Mt Albert.
But it's still important to keep a family connection. At the new factory, there's a space where the girls can come in after school and do their homework and help make up the little chocolate boxes.
With so much to learn and so many more flavoursome avenues to explore, Sally has not lost her initial enthusiasm. She still makes chocolates for school fundraisers, hosts chocolate-making parties for her daughters and loves that they are very discerning when it comes to tasting the wares.
"Yes, we eat the chocolates every day," she says. "It's a tough job finding your favourite."
Chocolate tips
* Never store chocolate in the refrigerator as it loses its flavour and alters the taste.
* Handmade chocolates have a shelf life of six to eight weeks maximum so enjoy them at their best.
* You can freeze chocolate but why would you want to?