Check out the look of these latest celebrity scents.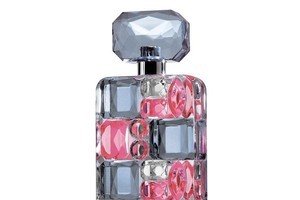 Celebrity perfumes get a bad rap, but retailers don't care, they're big sellers, especially with the younger set. That explains why many of these scents are on the sweet side, with lolly bright boxes and girly bottles.
A number of the stars cite what fragrance makers call gourmand notes as influences - no doubt dreaming of some dietary decadence - which maybe explains why chocolate, caramel, praline, marshmallow etc crop up in the mix. But the juice isn't all junk, it's often mixed by the same perfumers who come up with fragrances for the big design houses. At its best, a celebrity scent can be the equal of any other mass market fragrance. At its worst it's a cloyingly blatant attempt to cash in.
Judging a scent by its star isn't always reliable. While we might think Britney Spears would reek of stale takeaways, her first Fantasy perfume wasn't half bad and in the five years since she's built quite a fragrance empire. It comes as no surprise that Mariah Carey's bottles are bedecked in butterflies. Both singers have gone bling for their newest releases, with Mariah's actually entitled Lollipop Bling. The name was inspired by a ring pop toy from a favourite American candy which her husband used to propose before she got a real sparkler.
She's on to a nice sideline with perfume royalties. Her oriental floral fragrance M came in at number six on the Top 10 sales list in New Zealand last year with Britney's Fantasy at number four, according to the Cosmetic Toiletry and Fragrance Association.
"While such [celebrity] products are important in the mix, particularly for the teenage/mass markets, they do not dominate the market," says Garth Wyllie, the association's executive director.
Where they do lead is in sizing, being among the first scents in the now industry standard smaller 30ml bottles and even occasionally in 15ml and a few 7ml rollerballs.
Sales figures are distorted somewhat by the parallel import market and because some smaller and non-retail sellers are not included in the statistics, but the women's fragrance Top 10 is an interesting mix of stayers, prestige classics and products from the likes of Avon, which this year launched a perfume in America in collaboration with singer Fergie.
The Top 10 in order is: Imari Franchise (Avon), Red Door, Opium, Fantasy, J'Adore, M by Mariah Carey, Pretty, Rush, Musk Franchise and White Linen.
Pretty, launched last year, is the most recent release on the list, giving Elizabeth Arden two entries. Its full-on oriental Red Door has been a hit since 1989. The oldest fragrance is Yves Saint Laurent's Opium, launched in 1977, with Estee Lauder's White Linen the year after. Gucci's Rush and Dior's J'Adore date to 1999, but newer variations have been added in.
Wyllie says his organisation has tracked a small rise in total fragrance sales in New Zealand, with the men's market a "star category".
Men get their own celebrity fragrances too, mostly music or sports stars. It's hard to tell if the advertising is aimed at impressionable youths or their girlfriends.
More obviously masculine fantasies come from Sean Jean, with his latest, I Am King. Hip-hop entrepreneur Jay Z has a complex spicy scent in Rocawear 9IX which is beating out wife Beyonce's Heat.
New Zealanders don't see all the celebrity scents launched overseas - Katy Perry where are yours? But most tastes are catered for - from Kate Moss to Kim Kardashian, the latter who has found time between the tabloids and the telly to bring out her first for Christmas.
Some celebrities such as Sarah Jessica Parker are said to be heavily involved in the development of their fragrances. The likes of Lovely and Covet are likely to be around longer than DVDs of SATC3. Gwen Stefani has her own scent and has masterminded a fragrance family inspired by Japanese pop culture to house her Harajuku Lovers collection.
Others leave it to the marketing department to come up with a signature style.
Sometimes the fragrance matches the public persona of the star perfectly. But other times it's a case of what were they thinking? (Avril Lavigne, what gives with the Barbie bottle?)
But that's life on planet celebrity.
* Christina Aguilera By Night (oriental floral with fruits, amber and vanilla) 30ml edt $54
* Harajuku Lovers Music, Wicked Style edition (soft fruity floral) 30ml edt $85
* Radiance Britney Spears (sparkling white floral with fruity notes) 30ml eau de parfum, $80
* Mariah Carey Lollipop Bling in Ribbon (sweet, white floral) 30ml eau de toilette $77
* Kim Kardashian (creamy oriental floral, heavy on vanilla), 50ml edp, $89
* Beyonce Heat (floral, fruity, woody with vanilla and honey suckle nectar) edt 30ml $61
Stockists: Selected department stores and pharmacies (Life for Harajuku Lovers). Kim Kardashian exclusive to Farmers.