Teenage skin needs to be treated differently.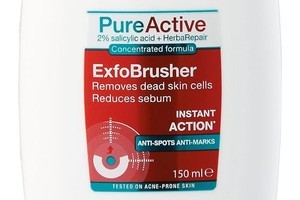 Young skin is great - or ghastly. Either it's effortless or erupting, glowing or shining. But aside from patches of hormonal hell, which mostly feel worse from the inside than they look from the outside, young skin is a dream.
It's not yet crying out for moisture or starting to sag, or finding once-cute freckles morphing into ugly age spots. Skin's main threat is the sun, so guard against prolonged unprotected exposure. If you're troubled by serious acne get it seen to or risk scarring from what is a treatable condition. If your woes are less intense, then just get into the habit of a good skincare regime.
Keep it simple, you don't want to clog pores with rich products at a time when you're likely to be overproducing oil. Spot treat problem areas with zit zappers containing anti-bacterial salicylic acid, and then disguise with cover sticks.
Cleansing is your most vital skincare step, make it easy by using a face wash in the shower and don't forget to take off the grime of the day, especially makeup and sunscreen.
If you are wearing waterproof mascara you will need an oil-based eye makeup remover, but some cleansers can handle your regular eye makeup, including wipes. Your facewash may usefully contain a mild exfoliator, but go easy if you have sensitivities or dry patches.
Sensitive skin is best treated with soothing, simple ingredients, making natural ranges like the well-priced Sukin and Avalon lines worth checking out. Trilogy also does a sensitive skin range. Local newcomer Scarlett & Greene and Nelson-based Oxygen have naturally based products just for teens. Dermalogica's Clean Start is a comprehensive range engineered for teenage skin, but it's not a budget option (see cleanstart.co.nz). Neither is Kiehl's Blue Herbal line, although the astringent lotion in this American range has been around since 1964, a sure sign it has plenty of repeat customers, including young men who can use it after shaving.
Garnier, Nivea and Neutrogena, also cater specifically for young skin and Aveeno, L'Oreal and Innoxa offer good choices at prices that won't give your mother premature frown lines. Za is good for oily complexions and takes an early focus on pigmentation control.
Make sure your moisturiser suits your skin, not a more mature one which will lap up a creamier product.
Tinted moisturisers are a good idea, but don't get lulled into a false sense of security about the extent of their sunscreening abilities. Australia is tougher than New Zealand in its regulations in this area, with so-called "secondary sunscreens" forbidden from claiming a rating over SPF15 because they are not applied as thickly as a standalone sunscreen and therefore you don't get the same level of protection. Buyer beware on moisturisers and foundations labelled SPF30 and more - while they do contain a sunscreen ingredient of that level, the issue is application.
Which brings us to the tricky area of transparency. As the television show What's Really in Our ... showed, it is a vexed area getting to the bottom of what our beauty products are all about. Products are as likely to declaim what they don't contain as spell out what they do. Many of the so-called nasties are being phased out, while others such as preservatives have a proven purpose. But there's no doubting that moves away from harsh ingredients and testing products on animals and towards better labelling and more eco-friendly packaging are long overdue. It's also good to see a greater appreciation of the benefits of naturally derived ingredients, especially those that are scientifically proven.
1. Scarlett & Greene range
Two Auckland mothers with teenage daughters came up with this three-step range to make a naturally based skincare regime easy. A combined cleanser and makeup remover, a breakout control wash (both $27.95) and a moisturiser with SPF15 ($25.95) all contain New Zealand botanicals. Switch between the cleanser and wash depending on skin condition. The products are free of sulphates, parabens, fragrance and synthetic colours and also silicones and mineral oil. (Smith & Caughey's or for pharmacy stockists see scarlett-greene.com)
2. Za Future defence Moist Wrap Mask set of five, $35
Young skin can get dehydrated too, especially in summer, so a mask like this containing hyaluronic acid can help deliver a welcome moisture boost.
3. Innoxa Skin Clear Purifying Mask $24.95
Innoxa has a smart new look, with two of its five ranges suitable for younger skin. There's one for sensitive types and then this oil-free Skin Clear selection which includes a mask ideal for a weekly treat.
4. Neutrogena Oil-Free Acne Wash Pink Grapefruit Facial Cleanser $16.99
This gel-like cleanser smells delicious and there's also a foaming scrub option, both with the power of 2 per cent salicylic acid.
5. Oxygen Pina Colada Moisturiser $39.50
Oxygen takes a gentle natural approach across its teenage range, with the bonus of options for troubled and normal skin. This fun-smelling moisturiser contains soothing aloe gel. Cleansers won't strip skin's natural oils as this can trigger more oil production in a vicious circle. (Online at oxygenskincare.co.nz)
6. Garnier Pure Active ExfoBrusher $13.79
Give clogged and oily skin cells the heave-ho with the brush's soft flexi bristles and 2 per cent salicylic acid. Garnier also makes the practical 3-in-1 Wash, Scrub & Mask ($12.77) which cleans and exfoliates with the added benefit of a mattifying mask all in one, making it good for oily and combination skins.
7. Kiehl's Concealing Stick for Blemishes $50
Far from the cheapest you'll find, but the lightweight blendable stick with zinc oxide and kaolin does the job well and natural silk powders absorb excess oil. (Exclusive to Smith & Caughey's Queen St).
8. Nivea Young Be Beautiful Tinted Moisturiser $9.49
This moisturises and refines in one step to leave skin looking smoother and more evenly coloured without using makeup. Another option is Nivea's Mattifying gel cream which is oil-free so it moisturises without adding shine. Use one of these after the soap-free Refreshing Wash Gel which won't leave skin feeling taut.
9. Garnier Pure Active Pimple Relief Cooling Roll-on $13.79
The nifty rollerball makes it easy to carry about to spot-treat your skin, helping dry out zits and reduce redness. There's a concealer rollerball too, but this benefits from blending with fingers.