Bobbi Brown makes up the stars but her appearance advice is very down to earth.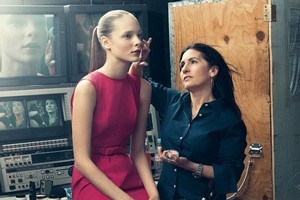 With her affirming personal philosophy, Bobbi Brown is the perfect guide to getting it right beauty-wise.
Her message combines expert guidance about techniques and products, with an all-embracing belief that true beauty comes from within.
In this interview with Viva, the New York makeup artist turned cosmetics company founder shares her thoughts on how young women can put their best face forward.
Brown has written a number of beauty books, with the latest, Beauty Rules (Chronicle Books, $70), aimed at teenagers and women in their early 20s.
Like the others it is notable for its practical approach and for using ethnically diverse, real-life models as well as sharing her insider insights into work on those glamorous magazine shoots and fashion weeks.
What was your own best teenage look - and the worst?
My worst look was trying to be someone I was not. As a teen I read fashion magazines and aspired to be as fit, tall and thin as all the blonde models.
Meanwhile I was the opposite of all those things. Then I saw the movie Love Story and it changed everything. Ali McGraw was stunning with her dark hair, thick brows, and barely visible makeup. She was a great role model - so simple and understated. Through women like her, I learned to embrace my own features.
You experimented a lot with makeup when young. If you had read a book like yours as a teenager would such sound advice have been a help or a hindrance to your burgeoning creativity?
As a teenager, if I knew then what I know now, I would have felt a lot differently about myself growing up. I believe the knowledge would help me feel confident, which enables you to be a successful person.
Do most young women learn from their makeup mistakes or just repeat them?
It's important to experiment with makeup in order to find what suits your personality best. I wanted girls to pick up Beauty Rules and be able to find themselves in the book.
What are the most common mistakes you see?
* Women wearing the wrong shade of foundation.
* Using makeup to distort your features.
* Makeup that overwhelms rather than enhances your features.
Mothers often bemoan that their daughters wear too much makeup, is this so, or is it just badly applied?
I think by 12 years old it's okay to start applying a little bit of makeup. However, I believe it's important for young girls to appreciate their face the way it is. Remember, less is more when you're young!
Are celebrity styles a bigger influence now than ever?
The images in magazines and on TV of girls looking perfect are not real. They all have fashion stylists, makeup artists, hairstylists, and tonnes of re-touching to make them look that way. Being beautiful isn't about being flawless. It's about having self-confidence and playing up the qualities that make you unique.
How do girls learn how to keep it real?
It is important for girls to focus on self-acceptance and through that build confidence. I believe confidence is true beauty.
Skincare and self-esteem are essential to beauty and well-being. A good skincare routine helps keep skin looking and feeling healthy, and that's a great confidence booster.
Why wear makeup, what does it offer?
Makeup is a way to help women look and feel like themselves, only prettier and more confident. I use makeup to empower women.
What do you say to the girl who thinks makeup is superficial and won't wear it?
Don't be afraid to experiment with makeup! Remember, it's only makeup - you can always take it off if you don't think it looks great.
What do you say to the girl who wears enough for someone twice her age?
Keep it simple. You should stand out, not your makeup.
What's the key to a young woman developing her own best look?
We spend a great deal of energy focusing on features we don't like, instead of appreciating what we do look like. Start appreciating yourself now.