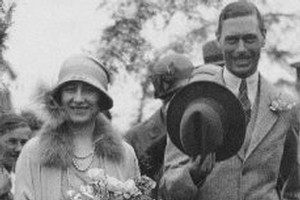 The real life story that inspired the film, The King's Speech, is one of the most extraordinary involving the British royal family in recent years - and one the Queen Mother long tried to keep quiet, deeming public discussion of her late husband's speaking problems "distasteful".
Lionel Logue did not brag about his work with the King. He knew any attempt to trade on his royal connection would mean the end of it. He did, however, keep detailed diaries, recording the minutiae of his royal patient's many consultations over the course of 25 years - but he kept his memories to himself.
And that was precisely how the Royal Family wanted it. When a young California-based screenwriter named David Seidler approached Logue's son, Valentine, in the early 1980s asking for access to his late father's papers, he was told to check with the Queen Mother. "Not in my lifetime," came the reply.
Seidler, who was born in Britain and had a deep respect for the monarchy, obeyed, even though he could not have predicted that Bertie's widow, already in her 80s, would live for another two decades.
A few months after her death in 2002, he finally began his screenplay, the basis for the film, directed by Tom Hooper.
But what of the elusive diaries? Valentine Logue was long dead, and Seidler had given up hope of finding them. When the film was in pre-production in London in summer last year, however, a researcher was put in touch with Logue's son Mark by Caroline Bowen, an Australian speech-language pathologist who had become an expert on his grandfather. Mark Logue was able to provide not only the diaries but also a wealth of other material about Lionel.
There was time to incorporate only some of this into the script, but Mark Logue, his imagination fired, kept finding more letters, official records and other documents in archives in Britain and Australia and hidden away in a cousin's attic - forming the basis for the book.
His discoveries revealed how closely Logue and the King worked together, and the huge debt owed by the King, and the monarchy, to this unconventional Australian.