Gill South seeks help for headaches from a reflexologist with good results.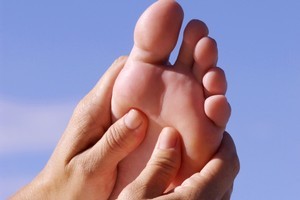 I leave the office of reflexologist, Margaret Fairbrother, feeling incredibly relaxed. I could easily curl up and nod off, but I have no time of course.
I arrived at Margaret's lovely, peaceful destination in Long Bay, feeling rather sleep-deprived. I had a child in my bed last night after a nightmare and he never left. It was like sharing a bed with an octopus.
I ask Margaret if she can help me with my headaches, which happen rather a lot at this time of year, due to the sudden warmth, hayfever and the growing pressure to get a certain amount of work done before Christmas. Margaret says reflexology helps with relaxation, reduces stress, improves quality of sleep, addresses digestive imbalances, pacifies chronic pain, enhances the immune system, and induces a feeling of well-being. Margaret helps support women who have metastatic breast cancer through the charity Sweet Louise. Reflexology helps calm the mind, she says.
Reflexology, a mix of massage and pressure techniques, is based on the principle that reflex points on the feet, hands and ears correspond to all parts of the body. The whole body can be treated by using specific pressure techniques on these points to stimulate blood flow, release toxins and congestion. The practice dates back to Egyptian times although possibly originated in ancient China.
My treatment concentrates on my feet. I choose an oil which is meant to inspire fun and energy. While one foot is cosily covered with a warm towel, the other is attended to as if I am a princess. Margaret is pressing and massaging all these points from the tips of my toes, to my ankles. She touches a tender part of my toe and apparently that relates to my jaw being tense. A sensitivity to massage along the top of the sole of my foot suggests my shoulder line is sore. It really hurts when she rubs around my ankles. These areas correspond to hips and painfulness may relate to this area being tense or stressed _ although I tell Margaret I was constantly twisting my ankle when I was young playing sport, which has made them weak. Further sensitivity in my feet suggests tension in my upper/mid back, always my favourite spot for a massage. I feel like this treatment has had quite a big effect on me _ my hips and lower back ache a bit on the drive home but it doesn't persist. Margaret says I may possibly feel worse before I feel better, but just for a bit and she will call me in a couple of days. My headache has disappeared and I feel very little stress.
Next week:
My hair test has arrived back from Britain informing me of various intolerances I have. I'm strangely excited about it.