Peppers can be mild or super spicy. And as Justin Newcombe discovered they can also be a whole lot of fun.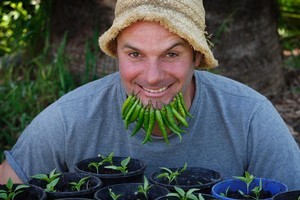 Calling all magpie gardeners, it's time to get those peppers in. On the surface, New Zealand can be a stoic setting (the national colour is black, after all) so it could be seen as surprising that chilli peppers get a look in at all, but up and down the country this summer there will be howls of pain and delight, mixed with laughter and the sound of running water as New Zealanders pit their taste buds against the hottest peppers they can grow.
While originating in the Americas, it's remarkable how many cultures have adopted the chilli pepper as one of their national foods. From Hungary, where it's turned into paprika to Goa in India, where it's used in vindaloo, the chilli has become a mainstay of many national culinary identities.
So how hot are our chillies? The "heat" in chilli is measured using Scoville units, which is a dilution method. The greater the dilution of the "heat" to a common point, the higher the reading. The bell pepper you buy at the supermarket has a Scoville reading of 0, tabasco sauce has a reading of between 2500-5000 while the bhut jolokia has a reading of 1,001,304 Scoville units - and I have it on good authority that it will, literally, take your breath away.
One thing I've always been told is that if you get rid of the seeds, then the chilli is not as hot. This is not quite the case. The seeds have practically no capsaicin ( the chemical that causes the heat) however the white pith which attaches the seed to the flesh has very high concentrations.
Propagation is easy. However, the seed can take a while to germinate. Place them between sheets of kitchen paper and store them in an air tight bag or container in a warm place for 2 to 3 days. Transplant into seed trays and once germinated keep well watered until they are ready to be transplanted. Feed regularly after flowering, stake larger varieties and remember to mulch.
Pepper categories include bell peppers, sweet peppers, and hot peppers while more unusually there's the Gaunter, which is good for making chilli powder, and the slightly cooler (relatively speaking) Hungarian bell. And don't forget about the ornamental possibilities. I was taken aback some years ago when I drove into Devonport and around traffic islands containing large aloes, underplanted with thousands of red and gold chillis. This was inspired planting for a seaside town - fun, festive and unusual. Perhaps I shouldn't be so surprised. After all, New Zealand's not all grin-and-bear-it. But as far as eating your peppers goes, you might need to don your black T-shirt and bite the bullet. But on your second chew ask yourself this very important question. Are we having fun yet?
3 of the best: Basil varieties
1. Lettuce leaf basil
Big, luscious and sweet - tear it up and toss it in your summer salad.
2.Thai basil
Not so sweet but full of flavour. A first-class cooking herb.
3. Sweet basil
The original basil - sweet, flavoursome and when we take our first bite, we know summer has arrived.