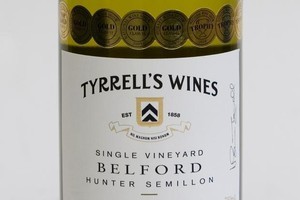 They have six vineyard blocks aged more than 100 years old, with the majority of the vines still producing excellent grapes. While they've not been acknowledged with a telegram from the Queen, they are highly prized by their owners.
Since 1858 the Tyrrell family of the Hunter Valley, north of Sydney, have been involved in Australia's wine industry.
Current managing director Bruce Tyrrell represents the fourth generation and points out his family have been on their Hunter vineyard for two thirds of Australia's modern history.
The motto "nothing is great unless it is good" came from England with Tyrrell's great-grandfather and continues to be the basis of all the Tyrrell's label wines.
The portfolio includes cabernet, shiraz, merlot and chardonnay but it is semillon that is without doubt the wine that Tyrrell's has almost made its own.
"Awesome" is the adjective most often used to describe their single vineyard semillon. Almost off the radar for most New Zealanders, semillon enjoys something of a cult following in Australia. It's one of the world's greatest food wines, being fresh, youthful, vibrant and visually exhibiting both intensity and delicacy. It can at the same time be fruity yet dry, and is often blended with sauvignon to pare back the overly grassy gooseberry characters and add roundness and subtlety to our best-known variety.
Often with a hint of lemon zest, the wine has the ability to develop honey flavours as it ages and can be something of a chameleon, which only adds to the fascination regarding this grape - it certainly isn't one-dimensional and easy to define.
Tyrrell's has a clear vision of how they want all their wines to be.
"There are no tricks in the winemaking, we're not into huge amounts of oak, tannin and alcohol."
Currently there are about 121ha of semillon in the Hunter Valley and there has been some venturing further infield with vineyards in Heathcote and McLaren Vale, mainly for reds.
Tyrrell's was named Winery of the Year by Australia's pre-eminent wine authority James Halliday in his 2010 Wine Companion and, according to Tyrrell, "this immediately opened doors into China". From the inexpensive to the luxury market, the wines are distinctive and charming.
RECOMMENDED
Tyrrell's Belford Semillon 2004, $43
A single vineyard wine which has received heaps of accolades and trophies. A classic semillon, tightly structured with considerable length and breadth of citrus honey flavours. Vines were planted in 1933. Gloriously dry.
Tyrrell's Rufus Stone Heathcote Shiraz 2008, $31
Refers to England's King William II (known as Rufus) mistakenly killed by an errant arrow fired by Sir Walter Tyrrell - the incident marked by the Rufus Stone. Rich opulent with heaps of berry flavours.