Address: 23 Ponsonby Rd, Ponsonby
Ph: (09) 360 6262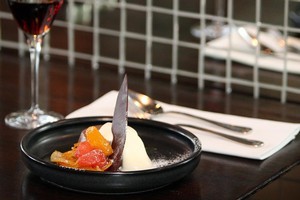 The last time we visited Rocco it was chaotic. But a couple of weeks ago, during an economic downturn, they couldn't put a fork wrong.
The side door into Hepburn St swung open as we arrived and we were ushered into Rocco's stylish bar, where the architect and his artist wife were waiting. We even scored the coveted table by Rocco's charming window, overlooking Ponsonby Rd. And the service was immaculate all evening.
The food was good too. I started with one of Rocco's selection of tapas, which they call picada, at $12 a plate. The one I chose turned out to be two small Cornish pasty-shaped pastries (but with lighter, more buttery pastry) stuffed with tasty mushrooms and meat. they were excellent. Dai had an outsized pile of tender calamari. Brian's robust, tomato-based fish soup was crammed with mussels, clams and fish and Malcolm's salad with blue cheese and Parma ham was also large and heavy on the ham and cheese.
Sadly Rocco is still persevering with the infuriating stack for its main courses, which most other restaurants have wisely discarded.
My skate arrived topped with a slice of something I assumed to be delicious in the dim candlelight, but which turned out to be a slice of fried lemon, which I had to spit into my table napkin.
Skate seems to be the new craze in restaurants, probably because as a part of the stingray family it's relatively cheap. This piece, which was taken from a thicker part of the ray, wasn't as lobster-like as the wing cut I tried at Ella Cafe along the road, but it was served on a bed of vegetables flavoured with pomegranate and pistachios, that made every mouthful delectable, exotic and surprising. The crunchy texture also offset the soft fish beautifully.
If it hadn't been for the fried lemon, it would have scored a 9 out of 10.
Meanwhile, Malcolm was working through his stack, which had come topped with a thick fillet steak. "How is it?" I enquired.
"Chewy."
And indeed it was. My sample slice was plain tough. Although Malcolm manfully munched through it, even when it's tasty and well-flavoured, nothing can redeem an over-chewy steak, especially a tough piece of fillet. Rocco obviously needs to get a more reliable supplier.
Brian, who had the roasted duck risotto, which wasn't stacked, was much happier. The risotto was well cooked with plenty of flavour. No complaints.
Poor Dai, our vegetarian, was totally underwhelmed with her oven roasted mushrooms which she found tasteless and overpowered by their accompanying sauce. But the salad it came with was okay and our side dish of broccolini tender and delicious.
By then I was getting put off my food altogether by the couple sitting opposite, who were offering the most revolting display of kissing. I'm not sure if there was an audience out on the road but it sure spoiled my dinner and must have tried the patience of their waiter, who had to hover for ages before he could serve their meals.
Luckily we were distracted by dessert, a chocolate mousse for Brian and Dai to share and an affogato each for Malcolm and me. Ours was a sensational serving of three scoops of icecream, drenched in coffee and nestling on pistachio brittle, which is possibly why I couldn't taste the Frangelico or Amaretto. The mousse, which Rocco makes with oil, was also a wild success. It oozed enormously on to the plate, quite enough for the four of us to sample.
Lastly we tried Rocco's fabulous chilled sherry, a fitting end to a sometimes thrilling Spanish night out.
Rating out of 10
Food: 7
Service: 8
Value: 7
Ambience: 7
Our meal: $397 for three entrees, one picada (tapas), four main courses, three desserts, two gins and tonic, one brandy, seven glasses of wine and two large glasses of sherry.
Wine list: Reasonable all-rounder but a limited selection of wines by the glass and fewer Spanish options than expected.
Verdict: Rocco provides a flash of Spanish fire on the Ponsonby dining strip and the service is excellent. Overall, good value.