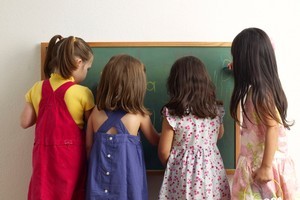 It's the first few months of daycare that are the worst - when you're getting used to leaving them for the day, and they're getting used to being looked after by someone else.
The sad little sobs are the hardest thing about dropping your little one off. The desperate clinging on is pretty heart wrenching too.
My little Mia hasn't done that for a long time, and for the almost two years she's been at daycare she's loved it (most of the time). Yes, she still has her moments in the mornings. Some of them are genuine "don't go" moments, especially after a long weekend or a holiday, and sometimes she's just putting it on for dramatic effect before running off beaming. "Bye, dad."
Next week she moves up to the big kids' class - where the boys are bigger, louder and more boisterous, and the girls more cliquey and bossy.
The anxiousness and worry I feel for her takes me back to the time when she first started going to daycare.
Overseas, moves to ease working parents' anxiety levels have stepped up a notch in recent years.
There are all manner of 'childcare surveillance' gadgets on the market and a new GPS-style gizmo currently being developed in Japan can track the whereabouts of a child and even take a photo of what they are seeing if their pulse rises to a stressed - or panicked - level.
I know what you're thinking. And I agree. What a bloody ridiculous idea sending your kid off to daycare rigged up like Tom Cruise in Mission Impossible just to put your mind at ease and help keep them safe.
Besides, kids need to learn to fend for themselves - and daycare, if you ask me, is a good place to learn.
Childcare is a divisive issue, but let's face it, some of us don't have a choice. And putting your child in care is not a bad thing because I reckon it helps teach them to look after themselves.
I'm convinced Mia's confidence and her friendly social butterfly nature is partly to do with going to daycare. She's also got a little friend who is similarly confident and social, and there is one boy in her class who started out as a placid and coy wee thing and is now a smiley and friendly little lad.
It might take Mia a little while to adjust next week but I know she will be fine in the big kids' class.
She's ready for the more advanced and challenging days the preschool offers and, most importantly, she's looking forward to it.
You go little girl.