Herald on Sunday rating: 4/5
Address: 466 Queen Street
Phone: (09) 362 0655
Website: legardemanger.co.nz
Open: 11am-late, seven days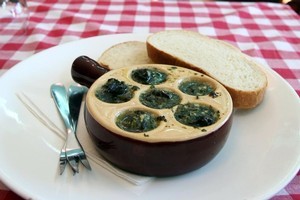 The line of Edwardian terrace shops near the top of Queen St is an unlikely place for a French restaurant. It is what I would have called a mini-Chinatown, if it weren't so vigorously pan-Asian.
I've enjoyed Korean, Chinese, Japanese and Thai food in that neck of the woods for years. But a colleague alerted me to this place, named after the chef in the classic French kitchen whose job it is to look after the charcuterie and salads.
A real French restaurant was hard to find in Auckland before Alex Roux opened Bouchon (which he has long-since sold) in Kingsland. His empire includes - or has included; I may have lost track - creperies in Elliott Stables and Three Lamps, and the authentic bistro Pastis on the noisy corner of Nelson and Victoria.
This place is not a Roux venture, but the owner, Florent Gibert, worked for Roux before deciding to strike out on his own. And his "creperie and cafe" differs from the two mentioned above in having a slightly larger choice of dishes.
Certainly the menu is dominated by galettes, the name given to the savoury buckwheat pancakes that are a speciality of Brittany and Normandy. Folded around a filling - the standards include creamy mushrooms; cheese, ham and egg; and ratatouille - they make an economical, filling meal in France, where eating out can batter the wallet.
The same goes here: Gibert's list of 10 galettes ranges from $10.50 to $15.50 and the basic models can be taken as part of a good-value $19.50 "formule", which includes the day's soup or a substantial salad.
One of my companions, who had spent rather too much time telling the waitress that Kiwis pronounce "crepe" to rhyme with "drape" rather than "step", finally decided to eat one - well, a galette, actually; the crepes are sweet - and settled on the "Norvegienne". This was billed as containing "salmon, dill and sour cream", an assemblage I would have expected to be cold, but he professed surprise that it arrived that way and my assurance that "it's from Norway; everything's cold up there" didn't seem to do much pacify him.
He should have been in a good mood because I'd let him eat several of the snails I'd settled on for an entree. I had been a bit apprehensive about the escargots since my only other encounters had involved a pair of tongs and a lot of tears, but these were thoughtfully shelled and served on a dedicated escargot platter, which has a dozen indentations to contain the luckless gastropods in decadent pools of garlic-and-parsley butter.
We used all the bread to soak up the last of the butter, but it was quickly and thoughtfully replenished. All the while, my other pal was sighing over an onion soup that proved classics are classics for a reason.
Two of us continued with the standby dishes of the blackboard menu - coq au vin and boeuf bourguignon - chicken and beef stews respectively, each of which were consummate examples of their kind; rich and tasty. And we finished with two dessert standards - crepes suzette, flamed tableside, and a darkly caramelised apple tart.
There's nothing flash about this place but, gingham tablecloths and all, it's cheery and welcoming and it does everything very well by sticking to the basics. It's a very welcome newcomer to a cheap and cheerful part of town.
Ambience: Beaucoup
Vegetarians: Galettes, salad
Watch out for: Flaming Grand Marnier
Bottom line: Bon appetit!
THE BILL
$148.50 for three
Soup: $9.50
Snails: $16.50
Galette: $15.50
Coq au vin: $20.50
Boeuf bourguignon: $20.50
Wine (one bottle): $45
Crepes suzette: $11.50
Tarte aux pommes: $9.50