Address: 463a Manukau Road
Phone: (09) 630 3555
Cuisine: Malaysian
Websites: kkmalaysia.co.nz
Rating: 9/10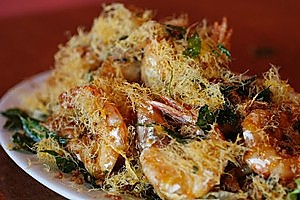 I'm often asked how the cheap and cheerful eateries in our city can possibly compete for top ratings in our Eating Out column with those establishments that have expensive fit-outs, award-winning chefs, prime locations and where no expense is spared sourcing local or exotic ingredients.
Easy, I say. They just have to do what they purport to do exceptionally well and dining there must still take the diner on a journey. Backpacking can be just as incredible as travelling first class, it's just different.
Visiting K.K. Malaysian Cuisine you'll know what I mean: there's an excitement and energy about the small dining space with staff furiously ferrying dishes from the hissing, sizzling, steaming kitchen to tables of hungry diners, all of whom keep an eye out for what other tables are ordering.
The three of us at our table followed suit with some pointing at dishes we liked the look of as well as ordering off the extensive menu and, before we knew it, we were tucking into our first dish - a tofu salad. Deep fried to golden, cubes of tofu were tossed with cucumber, crunchy bean shoots, chopped chilli, bound with a tangy dressing and topped with lots of crushed peanuts.
This brilliantly balanced plateful of texture and tastes instantly kicked our tastebuds into action.
We knew we'd over-ordered when the rest of our dishes began to arrive. When the steaming bowl of curry laksa arrived we couldn't believe the size of it - it was enough to feed double the number at our table.
We wanted to dig in immediately but there's a wee trick with eating laksa; instead of rushing in, burning your mouth trying to do battle with the noodles in their hot thick broth, be patient. It's not easy, as the aromas of lemongrass, kaffir lime and coconut are maddeningly tantalising, but waiting until it has cooled off does two things - it saves your tastebuds from a scorching and the flavours are much more pronounced at a cooler temperature. Luckily our other dishes proved to be the perfect distraction while we waited.
Gnawing our way through the K.K. special pork spare ribs, our instant reaction was to order a round of cold Tiger beers. They just have that effect - sticky, meaty, spiked with birdseye chilli (you've got to love the harshness of this chilli) and tender as can be.
I had been told by fans and regulars of K.K. that the butter prawns were not to be missed. They arrived resplendent in their bright pink shells (you have the option of ordering them without the shells if you prefer) and scattered with chopped chilli, curry leaves and a most extraordinary garnish of what turned out to be a concoction of fried milk and egg that added a caramelised flavour to the dish.
But back to the by now cooled laksa. As we slurped our way through this soup we wondered if this could be the perfect meal. Soft egg noodles, tender chunks of chicken falling away from the bone, crunchy beanshoots for texture and all drowned in a fragrant gravy - this dish had depth and comfort all in one.
The nasi goreng was packed full of chicken, prawns, barbecue pork and diced vegetables and it had that authentic smoky, slightly oily, charred flavour you get from the street hawker versions of this popular fried rice dish throughout Malaysian and Indonesia.
K.K.'s modest "chicken curry" ($18) was yet another example of divinely cooked Malay food. The thick coconut gravy was spicy but the heat was moderated nicely by fluffy, starchy potato pieces swimming in the gravy alongside the succulent bone-in morsels of chicken. We mopped up the gravy with our roti and, at K.K Malaysian, they are the real thing. Moist, oily, perfectly spun layers of this flaky flatbread had me breaking my own self-imposed wheat-free rule. I polished off two roti and took the leftovers home.
K.K is not new, it's more of an institution. The experience of dining here rivals any of what Auckland has to offer. You just have to manage your expectations. Get ready for a flurry of fresh, fabulous, mouthwatering Malaysian dishes served up in unpretentious surrounds on a busy main road intersection. No need to dress up - you'll love it.
From the menu: Malaysian deep fried tofu $5, chicken curry $18, K.K. special spare ribs $18, butter prawns $28, nasi goreng $10, curry chicken laksa noodle soup $18, roti $2.50 each.
Drinks: Fully licensed, BYO corkage $2 per glass.