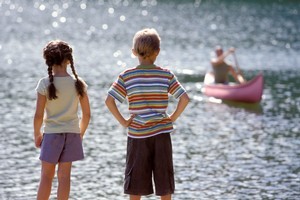 The fewer siblings children have, the happier they are, a survey has suggested.
In a British study on sibling bullying, 31 per cent of children said they were hit, kicked or pushed by a brother or sister "quite a lot" or "a lot". Others complained of belongings being stolen by siblings and being called hurtful names.
The findings are based on in-depth questionnaires completed by 2500 young people which have been analysed by Gundi Knies from the Institute for Social and Economic Research at the University of Essex.
She suggested that factors such as competition for parents' attention or the fact that toys, lollies or space needed to be shared could be to blame.
Dr Knies also pointed to other data within the study: 29.5 per cent of teenagers complain of being called "nasty names" by brothers or sisters "quite a lot" or "a lot", while 17.6 per cent say they have their belongings taken away from them.
Professor Dieter Wolke of the University of Warwick, who carried out the work on tensions between brothers and sisters, said: "More than half of all siblings (54 per cent) were involved in bullying in one form or another."
Although there was also evidence for siblings providing support for each other, he warned that children who faced bullying at home and in the playground were particularly vulnerable to behaviour problems and unhappiness.
The figures are the first to emerge from Understanding Society, a study tracking the lives of 100,000 people in 40,000 British households.
They will be revealed this week in a magazine, Britain in 2011, the State of the Nation.
- OBSERVER