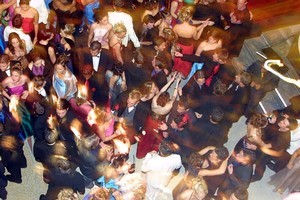 A 16-year-old girl has claimed discrimination after her private Australian school banned her lesbian partner from the ball - and told her to bring a man instead.
Hannah Williams, a student at Ivanhoe Girls' Grammar, an independent Anglican school in Melbourne, complained to the Equal Opportunities Commission after she was told not to bring her 15-year-old girlfriend, Savannah Supski, to the dinner dance.
Miss Williams boycotted the event and told the Age newspaper: "It made me very upset. I thought it was unfair, so I didn't go".
Miss Supski said: "It was a homophobic issue and I feel extremely discriminated against".
The school insisted yesterday that the ban was imposed because of age, not sexual orientation, but Miss Williams said her classmates had taken younger males to the ball.
After the EOC complaint was lodged, her father, Peter Williams, took part in a mediation session with the school but the matter was not resolved.
"The school kept saying, 'Because it is an all-girls school, we want to make an event where they can meet boys in a social scenario'," he said.
"That process is anachronistic and creates feelings of discrimination among girls who are same-sex attracted."
Ivanhoe principal, Heather Schnagl, denied discriminating against same-sex couples.
"If we opened it up and said girls could bring another female, they would all bring females," she said.
"The policy is trying to create an event where boys are invited ... [The girls] are meant to invite guests, not partners."