With the festive season approaching, Catherine Smith finds there is more than one way to present a present.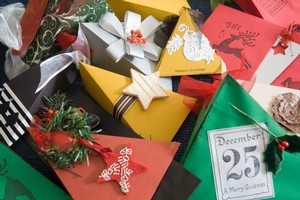 We're not looking for perfect. You can buy perfect in a packet from a chain store," says Sheryl Sefton as she sets a small group of us on the path to making our own holiday gift packages on a recent Saturday morning.
"Giving and being creative with how you present your gifts - that's what people really enjoy. It makes them feel extra special, because you've gone the extra mile.
"You've given them the gift of time and that's pretty precious these days."
With that assurance that we are not on a mission to out-Martha Martha Stewart, we're on our way. Sheryl reminds us that what we're doing with our gift-giving is actually right on the current eco-zeitgeist, as we're "upcycling" other people's trash to treasures.
From her table of vastly varied samples, she shows us cunning Christmas-tree gift tags made from sewing discarded sugar sticks on to card stock (she has friendly relationships with all the local cafes who save them for her), beautifully embossed metallic cards and trimmings made from coffee bags and the stuff that wraps around champagne corks, and vintage printed bags and envelopes of pages torn from past-their-best children's picture books.
She combs second-hand shops, the discards from school fair book stands and sings the praises of the cardboard carry boxes for beer as raw material for re-working into sturdy gift boxes.
Sheryl created her business, Creative Gift Design, three years ago, after a lifetime of crafting with paper, threads and fabrics. She had intended to focus on revving up the corporate gift market with unusual presentation but soon realised people wanted the creative satisfaction of making something for themselves, so began workshops.
She arrives at class with a tool kit, boxes of crafting treasures - and a determination to make us play and experiment.
"It's all about pure play - have fun," she assures us in person and on her website. She is a firm believer in the therapeutic value of being creative and using your hands, swearing it relaxes both body and mind. Certainly, after an initial bout of "mine won't look this good" nerves, the four of us in her class then found our inner primary school instincts.
We tore through our kit of papers, card stock and trimmings and were amazed at how much variation we could achieve with a few simple materials. But also, how time flew, and the stresses that come with the usual Saturday list of chores evaporated.
Sheryl helpfully pointed out that many of the preparation and assembly jobs can be done at odd moments (television jobs, she calls them) so that even busy folk can have the satisfaction of hand-making gifts.
Tool envy quickly set in as Sheryl totes her collection of clever machines to show students how easy it is to die-cut paper and emboss it into luxurious textures for labels and trims.
The one that instantly made everyone's Santa list is the Cuttlebug. Well known to scrapbookers and paper artists, it is a cunning hand cranked machine that takes embossing folders (the male and female pieces create the raised texture) and die-cutting blades. Not cheap at around $140 apiece (look out on Trade Me or the big stationery or craft chain stores for bargains) it produces professional results and will last a lifetime of crafting. In keeping with her philosophy, Sheryl suggests buying one between a group of friends to share around or as a good excuse to have crafting sessions together.
Addictive personalities may find they spend as much on new accessories for this clever tool (bits start from $14 up to $50) as they save on creatively re-cycling everything else, but hey, every creative must suffer for their art.
Upcycled gifts for nix
* Comb $2 shops for branches of fake berries, beads or flowers that can be chopped into smaller components to trim a gift bag.
* Learn a couple of simple folding techniques to create bags of every size for awkward shaped gifts, or to stuff with lollies and baking, or to tart up plain gift vouchers
* Wind little nests from thread, string or raffia to trim a bag or box: pop on a tiny bird or piece of fruit.
* Sew paper into stockings or trim cards with sewn-on scraps and pictures. Use a regular sewing machine, but save the needle for paper crafts as it blunts very quickly. Rows of triangles sewn on ribbon or cord makes festive bunting to trim bags and boxes.
* Creative Gift Design runs three-hour hands-on workshops or in small groups in your home or for office team building. Contact Sheryl Sefton, ph (09) 418 5580 or 021 257 065 or creativegiftdesign.co.nz
Next workshop
Christmas Packaging, Saturday November 13, 9.30am-12.30pm or 1.30pm- 4.30pm, Highbury Community House, 110 Hinemoa St, Birkenhead . Fee: $25, includes starter kit. Papers, embellishments and gifts will be available to purchase on the day.