Sails are an easy and adaptable way to provide shade, writes Justin Newcombe.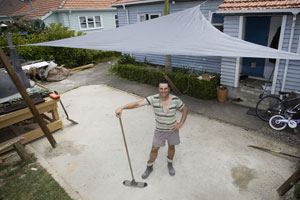 One of the great pleasures of summer is cooking outdoors but all too often we're the ones being cooked. Just pop me on some bread, add some onions and a squirt of tomato sauce and I'm done.
If you don't want to feel (or look) like a hot dog this summer, shade is essential, and the solutions are many and varied. I like the idea of a tree but that can take some time to grow. A pergola is a grand idea as well but it's quite a commitment to build, especially in any area of significant size. Umbrellas have the advantage of being transportable but I find them a little restricting and I always get the seat next to the pole.
A sail, on the other hand, seems, to solve many of these problems. Bunnings have a remarkable range of sails, square and triangular.
If I'm really honest, I've always thought triangular sails where a bit of a waste of time but when it came time to put one up for myself, I could really see why you would go for a triangle. A triangle seemed to fit well in this difficult, high foot-traffic area, where you don't want a lot of posts.
There's also the unexpected pleasure of sitting under something floating above you; it's a nice place to be even without the sun. The posts are 4 metres long and dressed, while the fittings are all stainless steel, which makes fastening and unfastening the sail a two-minute job. The whole project took a leisurely 2 1/2 hours.
Here's how I did it.
Step 1
Measure out your area and work out approximately where the posts will go. A drawing is a big help here.
Step 2
After you've bought the right sail, open it out on the ground and position it. Dig holes for the posts at least 600mm deep, preferably 800mm.
Step 3
I attached the first sail corner to the house, using a pad eye, a turnbuckle and a D shackle. This corner also had a piece of rope attached to it as the sail I bought was a bit short. In future I would use a tailor strop or piece of chain.
Step 4
I decided to lean the posts away from the centre of the sail. This makes the whole thing stronger and is much easier to install. If you need to level the posts I would think about using metal ones. I also trimmed the top of the post into a spike so it looked more like a stake in the ground than a post. Once you've positioned the posts, concrete them in with quick set concrete. I used three bags per post.
Step 5
Drill a hole in the posts for the eye bolts and attach the other corners of the sail to them. Make sure your turnbuckles are wide open. This will allow you to adjust the tension later.
Step 6
Stain the posts (I used Wattle Aquastain in Black Bean) and adjust the tension in each corner.
DIY workshops at your local Bunning Warehouse this weekend:
Saturday 10am: Kids' "paint it" DIY workshop; 11am: Kitchen planning workshop; 1pm: How to lay ceramic floor tiles.
Sunday 10am: Kids' "paint it" DIY workshop; 11am: Clean and seal your deck; 1pm: Remove wallpaper, paint and varnish.