Learn how to make the perfect pav and then shake things up with some twists on the traditional.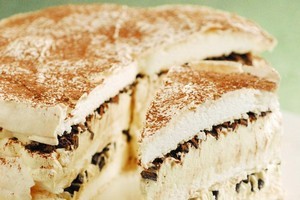 So you thought there was only one way to make pavlova? Genevieve Knights thinks differently and in this simply titled book, Pavlova, she offers 50 delectable recipes for one of New Zealand's favourite desserts. A chef, food writer and food photographer based in Auckland, Knights also runs through the often disputed history of pavlova, and suggests tips and tricks to achieve the best results. Divided into four chapters, her pavlovas take the form of cakes, miniatures, rolls and something different in an innovative collection in which Knights offers new twists on the classic. We feature one of these here:
Tiramilova
"Two classic dishes - tiramisu and pavlova - are combined to create this very yummy layer cake. Ironically, both desserts are named after women, tiramisu apparently being the maiden name of a confectioner's apprentice in the recipe where the dessert is said to have originated. I made it once as a bit of a joke for friends, but it turned out so damn well that it has put in a number of appearances at my dinner parties." Genevieve Knights.
6 egg whites
360g caster sugar
3 teaspoons white vinegar
1 tablespoon cocoa
250g mascarpone
5 Tbs kahlua
400ml cream
100g chocolate chips
1. Preheat oven to a 150c fan-bake setting. Draw 3 x 20cm diameter circles with ballpoint pen onto 3 sheets of non-stick baking and set aside.
2. In a large clean bowl, whip the egg whites until they form peaks. While continuing to whip, gradually rain in the 360g caster sugar. Then whip a further 8-10 minutes until all the sugar granules have dissolved.
3. Add the white vinegar, then fold with a metal spoon very gently until combined.
4 Place the sheet of baking paper on an oven proof tray. Divide the mixture between the penned rings. Using a spatula or a palette knife, work the mix to the edges of the ring to create even, flat discs.
5. Sift the cocoa evenly over all three layers. Place the baking sheets in the oven and bake for 5 minutes. Turn the heat down to 100c and bake a further 30 minutes. Remove from the oven and leave to cool to room temperature.
6. Place the mascarpone and kahlua into a mixing bowl. Whisk together with an electric beater to combine. Add the cream and beat until firmly whipped.
7. Removing the paper from the layers as you go, place the first cake layer upside down on a serving plate. Pile on half the cream and smooth over evenly leaving a centimeter gap at the edge. Sprinkle over half the chocolate chips. Repeat the process with the second layer. Top with final layer cocoa side up. Chill until serving time.
Be in to win this cookbook
Pavlova by Genevieve Knights, White Knights Publishing, RRP $25. Available from Cook the Books, 81 Ponsonby Rd, Ponsonby, ph (09) 360 6513, cookthebooks.co.nz
They have one copy to give away. To enter the draw, email your name and address to books@cookthebooks.co.nz by Monday, November 8.