There are more benefits to organic gardening than just healthy produce, writes Libby Nicholson-Moon.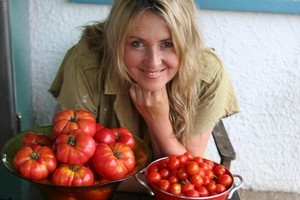 I'm addicted to gardening, and to the sense of accomplishment I feel when I harvest my crops. I'm also an organic gardener, so I'm extremely vigilant, often stalking snails at night with a torch, and checking the leaves of my tomato plants with a magnifying glass as I hunt down garden predators. And I love it. It's also a great way to build friendships with your neighbours.
Last year, my husband Bruce and I moved to a new house, complete with a large sheltered back section, a glass house, rich volcanic soil with plenty of juicy worms, and lots of sun - ideal conditions for creating a vegetable garden.
My first crops were planted in autumn, and included red cabbages, broccoli, kale, leeks, spinach, silverbeet, broad beans, brussels sprouts, (which failed miserably) and carrots. I also planted a large plot of herbs, spring onions, lettuce and rocket. By early September I was propagating plants for summer, including three different varieties of heirloom tomato seeds.
Five weeks later, my glass house was filled with 100 young tomato plants, and other vegetable plants. I gave 50 tomato seedlings away and spent the next four months attending daily to the remainder - watering, de-lateraling, feeding, and picking off bugs.
I lived, breathed and ate tomatoes all summer. I gave them away, bottled them, made chutneys, froze and cooked kilos and kilos of tomatoes. They are my favourite vegetable to grow, but this summer I'm going for a smaller crop.
I've also learned to plant little and often, so you have a steady stream of produce coming through, that it's best to plant in the evenings, and it's important to follow the planting instructions for each vegetable. Watering for each plant's needs is also crucial, as is crop rotation, to avoid pest and disease epidemics, and nutrient exhaustion.
Earlier this year our new neighbours Sharyn Tee and Howard Warren moved in, and we've been gardening buddies ever since. We discuss gardening tips, and share progress reports daily. If Sharyn has plants that need propagating, she provides the seed raising mix, seeds and trays, and it's done in our glass house, and we split the results between us. I share any plants I have propagated in return. We exchange produce, and delicious treats from our kitchens.
I visited my former neighbours Kim and Bruce Parker to see their new garden, and gave them some scarlet runner beans to plant. Their daughter Chloe named them, "Libby's magic beans" and promised to plant them the next day. The roots of gardening friendships keep on growing.
Tips for starting a garden
* Test your soil, then prepare it
* Start your own compost
* Start small and manageable
* Plant new plants in the evening
* Stagger planting
* Water to the requirements of each vegetable
* Rotate crops
* Space crops appropriately, especially tomatoes
* Use untreated timber for planters
* Use mulch for soil protection and improvement, and weed control