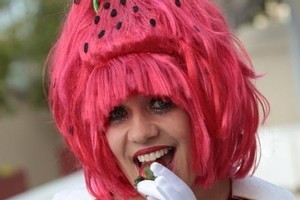 Get down to Queen Elizabeth II Square in Auckland's Downtown today for the Hospice Strawberry Festival. All day long there will strawberries and icecream for sale, along with strawberry angel Christmas decorations and other strawberry treats. All the money raised from the event will go to Mercy Hospice, Auckland. Don't delay, this is a wonderful way to get in the summer mood and do your bit to help the hospice from assistance to Aucklanders who need it, free of charge. For more info, go to mercyhospice.org.nz or strawberryfestival.org.nz
Get soulful
Soul Bar is being transformed into a "Garden of Soul" for the month with the help of award-winning landscape artist Xanthe White. She has been inspired by the Great Parterre Gardens of France, with hanging gardens, gazebos and a white carpet - a unique twist on alfresco dining.
And each Sunday until November 21, Soul will host "Sunday Wine Downs", with discounted wines and George FM DJ's - combining fine food and wine with inspiring landscape.
Bueno!
Another great way to get la dolce vita is the beautiful book, Recipes from An Italian Summer (Phaidon, $59.95). It's cram-packed with recipes perfect for picnics on hot sunny days and long alfresco dinner. From mushroom and caper crostini to wild duck with figs, from asparagus risotto to sunflower petal salad, almond blossom cake to marinated anchovies, this book has over 380 easy-to-follow, authentic Italia recipes, collated by the authors of the best-selling Italian cookery bible, The Silver Spoon.
Simply irresistible
A box of Temptation Bon Bons mysteriously found its way into the Viva office this week - and lived up to its promise. The team was tempted by the giant strawberries coated in creamy caramel and coated in dark chocolate. Ooh la la. Seek these out, they're worth it. Ph P.J on 021 108 5573 or email temptationbonbons@gmail.com
India flavour
If you went to the Diwali Festival of Lights Festival last weekend and loved the flavours of all the Indian food on offer, we suggest you try Mel's Gourmet Tandoori Marinade from Nosh. The recipe comes from Northern India and is a traditional combination of tandoori masala, yoghurt, lemon juice, and other Indian spices.
Traditionally teamed with chicken, Nosh Food Market chef James Patterson recommends another approach for barbecuing this summer: marinate king prawns with the tandoori paste and cook on the barbie. Serve as a snack with a slice of lime, sprinkling of coriander, red onions, and cooling mint chutney. How good does that sound? $11.99, from Nosh Food Markets, noshfoodmarket.co.nz or mels.co.nz