Tis the season to go shopping ...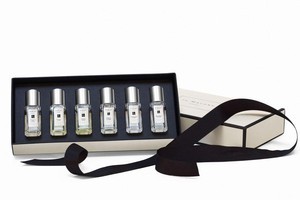 Now November is upon us, we don't mind starting to think about Christmas so we can ward off that last-minute present panic.
Sensible shoppers take time to sniff out the best buys and also get the chance to spot items of personal interest - just in case anyone is asking later on.
Sets often make great value beauty buys, though in the case of some of our luxury picks you might want to start saving now for the festive season of 2011.
Make sure that whatever you are tempted to buy - in any price bracket - is actually going to be useful, rather than just being a pretty package with bonus items of no particular extra appeal.
Get it right and it will make for a Merry Christmas.
1. Jo Malone Customised Fragrance Combining Collection, select two favourite colognes to be paired with six accent scents, $700.
2. M.A.C lip bag with lipstick, gloss and pencil $92.
3. Prevage Face skincare set $299.
4. La Mer Holiday Essential Body Collection to polish, purify and hydrate skin $675.
5. Antipodes gift box of Nirvana body wash and Kowhai Deliverance hand cream $59.90, (antipodesnature.com).
6. Primal Earth Aloe Hydrate men's skin and shave care $34.99, (primalearth.co.nz).
7. Elemental Herbology Botanical Bathing Infusions bath oils $85, (meccacosmetica..co.nz).
8. Elizabeth Arden Green Tea tin of perfume sprays, and body lotion and gel $79.
9. Orly Tis the Season set of emerald glitter, silver-white glitter and red cream nail polishes in a cosmetics clutch $33.99.