Optometrist Jason Dhana has carefully sourced his wardrobe treasures from the fashion capitals of the world.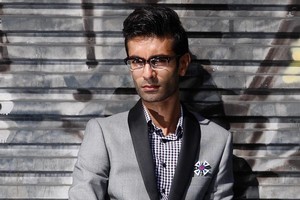 A taste for the international informs the style and wardrobe of optometrist Jason Dhana, whose favourite fashionable things come from Melbourne, Milan and London - each telling a story about where in the world it was purchased. Dhana can often be spotted working at OPSM's busy Queen St store, in one of his signature slim-fitting suits. He describes his style as chic, sleek and unique, although surprisingly he counts rock star Shirley Manson as a style icon - because of her inspiring attitude to fashion. He tells us more about his own classic style.
Eyewear is having a fashion moment - what is your best tip for looking good in glasses?
Pick a frame shape that goes well with your facial structure, a colour that will go with your skin and hair colour, and of course your wardrobe. Make sure they're the right size and be sure to get an anti-reflection coating on your lenses.
Who is your ultimate fashion plate?
Shirley Manson from the band Garbage - she can wear anything she wants without caring what anyone thinks.
Who are your favourite designers?
Arthur Galan, Saba and Calibre. Each of these designers incorporate an elegance and contemporary sophistication in their collections.
What was the last item of clothing you bought?
A navy blue leather and polyester jacket from Zara in Milan.
What item of clothing do you want to buy next?
I can never have enough shirts for some reason so I anticipate this may be my next purchase.
Who or what inspires you when dressing every morning?
The male models in the Dolce & Gabbana campaigns and runway shows.
Your favourite accessory?
My silver revolver pendant from Jack London in Melbourne. It goes well with anything, it's edgy, it's rebellious, and the barrel in it turns.
Who does the best shoes?
I've never been a shoe person. I have some black pointed-toe patent leather dress shoes which I bought from Zu in Melbourne. I love them so much I don't bother shopping for other dress shoes.
What's the one thing every man should have in their wardrobe?
A well-fitted suit is an essential outfit that every man needs.
Your favourite shop?
At the moment Topman on Oxford St in London. I went a tad crazy there last month, everything I saw was my style.
Your fashion obsession?
Well-fitted suits.
How do you define the word "fashionable", what does it mean to you?
Fashionable to me is not following the fashion of others but creating your own style. A good hairstyle plays a big part too.
Whose wardrobe would you most like to raid?
I can't think of anyone whose style I personally admire. I'm happy to raid my own wardrobe each morning.
The one rule you always dress by?
There are no rules. However, it's good to make sure that each piece fits (not necessarily matches) with the other.
Describe the best outfit you've ever worn.
The outfit I wore to my sister's wedding. It was a traditional Indian outfit called a sherwani which is a long coat-like garment. It was turquoise in colour and had tens of thousands of tiny silver beads hand-stitched into patterns.
How long does it take you to get ready in the morning?
About 45 minutes (although family and friends would tell you most of that is spent on my hair).
You feel best wearing?
For comfort, jeans and a T-shirt. For confidence, a suit.
Most overrated item in fashion?
Over-sized T-shirts and ugg boots (not together).
Most underrated item in fashion?
Spectacle frames.