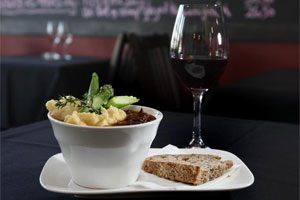 Pinot Plus describes itself as a wine bar with good food and it is true that with John Ingle at the helm you are far more likely to be having a lengthy conversation about the character of what you are about to drink than about what you intend to eat.
Our evening started, as is a regular practice here, with a tasting - a couple of contrasting Mosel rieslings, a Kerpen 2008 Wehlener Sonnenuhr Spatlese Trocken (the name trips as lightly off the tongue as did the wine), which is very different in character from the average New Zealand drop and in complete contrast to the luscious Kerpen Auslese, which I returned to with pudding.
What Ingle does here, as in his previous venues, which include Porterhouse Blue, Merlot and many others, is to remind you of the variety which can be produced across the wine spectrum both in terms of grapes and vintage.
But this is an eating place and the food is not neglected. The menu is based mainly on entree-sized servings, which makes sharing an almost obligatory pleasure; fine for those of us who always want a bit of what others are having.
All dishes can be upscaled to larger portions, although a couple of our entree-sized choices were so rich that the bigger versions might have been something of an epic.
Bistro-style slow cooking features with items like pork belly stuffed with bacon and prunes on polenta with caramelised apple. I went for the beef cheeks in which - and vegetarians should avert their eyes here - the connective tissues had melted around the meat to produce a rich gelatinous, glutinous dish topped with parsnip puree, broccoli and asparagus. This was a winner, as was the almost equally rich shredded duck risotto, expertly cooked and enlivened by slices of almond.
The letdown came with the accompanying salad. Why Auckland restaurants that take trouble over sourcing their food so often treat salads in a cavalier manner is a mystery and a bit of tired mesclun and radish with huge, tasteless tomatoes and a lacklustre dressing don't add much to a meal.
We had entered the meal gently with selections from the lighter side, which included pates and dips and antipasti. The marinated prawn skewers with lemon mayonnaise were tasty, if slightly overcooked, but the topping of red onion, capsicum, walnuts, cherry tomatoes and raspberry balsamic on the goat's cheese tarts was overkill. The flavour of the cheese could barely be discerned, although the very short pastry was much to our taste.
The dessert menu is short and traditional. What is listed as "Vera's famous layered caramel cake" was tempting but we shared a sticky date pudding, which was as expected.
We enjoyed it and, we noticed, so had our neighbours, for this is a very small establishment and the atmosphere gets very chummy, a characteristic increased by the presence of lots of regulars, many of mature vintages although the age profile lost years as the evening progressed.
That there is an established customer base is not surprising because the welcome here from Ingle and his excellent staff is attentive and observant. Pinot Plus is a useful addition to Takapuna where there are lots of eating places but few of this individuality.
Rating out of 10

Food: 7
Service: 8
Value: 7
Ambience: 8

Our meal: $159.00 for four entree-sized courses and one dessert, and five glasses of wine.

Our wines: Two excellent Staedte Land 2002 and 2003 Marlborough pinots noirs, a meaty Amistead 2008 pinot noir and a Kerpen Auslese riesling from a very distinctive list.

Verdict: Great if you want interesting wines, respectable food and superb service - and who doesn't?