Herald Rating: 4/5
Address: 194 Jervois Rd, Herne Bay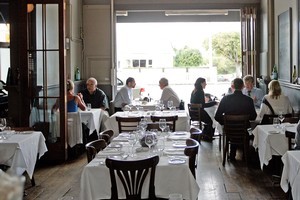 We came here because the place we'd intended to go and other surrounding cafes had no spare tables - Andiamo, on the other hand, is quite a bit bigger so could squeeze us in.
Parking was on the street, and pot luck whether or not you find something close.
We walked in and immediately thought this place has a definite well-heeled vibe.
The most unusual thing on the menu was the toasted five-grain, roasted field mushrooms, ceps and buttered spinach, with kikorangi blue sauce, $16.
We ordered the breakfast sausage on bubble and squeak with onion gravy and chutney, $16.50. The gravy was rich and tasty and the sausage divine. But there was only one and there was some mild panic that the portion wouldn't be enough. Thankfully, my dining partner's kidney, mushrooms, bacon, mustard sauce and wholegrain toast, $16.50, was plentiful enough for me to grab a few bites. Haven't had kidneys in an age and these were cooked and accompanied well.
The service was very efficient and polite, if not overly warm.
The coffee was superb. Had to have two.
We recommend if you come here you bear in mind that it isn't really a kickback-on-a-lazy-Sunday type of place.
Overall we thought the food would have us returning, but perhaps in some smarter attire.