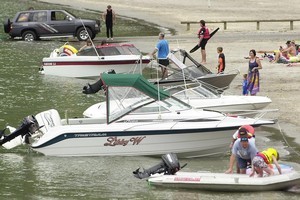 The full moon last week proved true to form with a lot of people enjoying the beautiful conditions on the water but finding fish almost impossible to connect with.
It was also a good example of how an influx of boats can affect the fish. Of course boat traffic was just part of the equation, which includes weather and moon phase. But as the first such occasion after a long winter with little boating activity, it is certainly relevant.
Example: One huge workup in the Hauraki Gulf attracted 70 boats. That sort of combined engine noise and boat noise will put the fish down.
Answer: Try fishing away from others, preferably down current.
Example: At Coromandel holiday centres the picture was the same, with busy waterways and hard fishing.
Answer: Do what two blokes in a small boat did and fish as night falls on Saturday evening.
They were straylining with plenty of berley on a small reef not far offshore from a popular holiday beach, and nabbed nine snapper between 5kg and 7kg.
Example: Fishing on the Kaipara Harbour was pretty hard over the three days, particularly in the shallows.
Answer: Head out through the harbour entrance and fish in the channel just to the north, as six anglers in one boat decided to try. They were on the right spot and after an hour had their limits of 10 snapper each, not huge ones but 60 fish up to 3.5kg is not a bad haul. Yes, the daily limit on the west coast is 10 snapper, not nine as on the east.
Example: The mussel farms and traditional hot spots in the Firth of Thames also proved hard fishing, which in shallow water with a surge in boat traffic is not surprising.
Answer: Take the approach of one canny angler of advanced years and stay close to town. He fished in 5m of water in his dinghy while everybody else headed over the horizon.
But these were the exceptions.
The story was the same everywhere - as the long weekend progressed fishing became harder, which can be attributed to the heavy traffic on the water.
But things are looking a little better for this weekend, with average-sized tides and a half moon. And after a long period of settled weather a bit of a stir up will be just what's needed. Funny how fishermen are never satisfied, isn't it?
The weather is either too calm, or too windy. But a surface broken up by choppy conditions is more conducive to good fishing than a flat, calm sea. Maybe it has something to do with the penetration of light into the water, and making the terminal parts of the tackle like monofilament trace, sinkers and hooks more visible in clear light.
Trevally is one species which is susceptible to these factors, and a hook hidden inside a bait will catch more trevally than one where much of the hook is visible. Some anglers will reduce the weight of their terminal line when fishing in shallow or clear water, even going so far as dispensing with swivels and trace and tying hooks directly to their main line.
The size of bait or lure is another element which can be varied to suit conditions. When the water is discoloured a large smelly bait makes sense, and conversely a small bait in clear water will work just as well.
Commercial long-liners have been active in Tamaki Strait, which is a sure sign of fish moving into the area. One pair of anglers using soft baits did very well only a kilometre from the boat ramp at Beachlands recently in rough weather. In shallow water fishing will always be better when the surface is broken up by waves.
A long-liner working off Mahurangi and Motuora Island actually headed further out into deeper water to set his gear because the snapper he was catching in close were too big. What a problem to have! They don't want big fish because they use up valuable quota and do not earn as much as the prime 1kg-2kg fish which are highly valued on the market for whole fish.
See tomorrow's Herald on Sunday for more in-depth analysis of the effect of the moon on fishing.
More fishing action can be found on the new internet television channel, fishnhunt.tv.