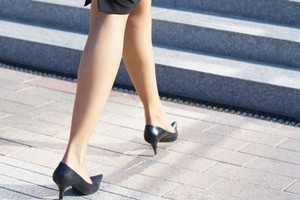 A workout during a weekday lunch-break? It sounds too hard. Not only is it a mad rush to get changed but coming back to the office all hot and sweaty and having to shower before settling back into work for the afternoon seems like it would take all the fun out of the exercise.
But there are easy ways to build fitness into your weekday life, says personal trainer Lee-Anne Wann.
A workout doesn't have to take long - Lee-Anne says 45 minutes is ample. And if 45 minutes is too much, there are still lots of ways to get the maximum impact in a shorter timeframe. Lee-Anne says the key principles are to work as much of your body as possible, burning as many calories and as much fat as you can in the time you have. This can be done by working the big muscles, such as the thighs, chest and back.
"Bigger muscles require more calories, so you burn more fat. And when you work big muscles, you work the smaller muscles at the same time."
Lee-Anne also recommends switching between exercises which work the upper and the lower body.
Moving from squats to shoulder presses, for example, flushes the blood around the body, forcing it to work harder.
For the really time-poor, she suggests a 20-minute interval training session. Either on a cardio machine, or running, go as hard as you can for one minute, then more slowly for one minute. Alternating like this for 20 minutes will burn a lot of calories. Twenty minutes is the maximum length of time that kind of session will be effective. The work is out of the fat-burning zone, but boosts the metabolism so much that extra calories are burnt for anywhere between 12 to 20 hours afterwards.
Lee-Anne warns that it is not a good idea to do such an intense workout late in the day, because it will prompt too much of an energy burst. The increased calorie-burning also stops when you go to sleep.
Keep in mind that doing anything is better than doing nothing. And accumulated exercise is as effective as working out in one hit, so an option is to aim for a 10-minute walk before work, another at lunchtime and a third after work.
As well as being good for your fitness and fat-burning, working out at lunchtime gets rid of the afternoon crash. "It will stop you wanting junk food at 3pm," says Lee-Anne.
Working it out
Burning calories doesn't have to be sweaty work. Check the list below:
* 30 mins weight training: 100 calories*
* 30 mins skipping: 370 calories
* 30 mins boxing: 450 calories
* 30 mins food shopping: 130 calories
* 30 mins standing: 72 calories
* 30 mins walking upstairs: 450 calories
* Sounds low compared to standing still for half an hour doesn't it? Lee-Anne says this is because 30 minutes of weight training is broken up into bits, with rests in between. Standing requires unbroken effort by many muscle groups.