Herald Rating: 3/5
Address: 521 South Titirangi Rd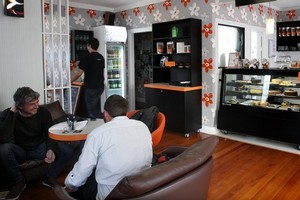 We came here because my friend - a new mum - had the place recommended to her by members of her coffee group as a child-friendly cafe.
Parking was one of the best things Siren has going for it - in the busy village on a Sunday morning with the markets in full swing, we found the cafe's off-street parking. Brilliant.
We walked in and immediately thought Siren has made inventive use of a former brick bungalow with bright decor: retro-style orange seats and white tables and a covered courtyard out the back, complete with kids' sandpit.
The most unusual thing on the menu is a tough one ... the menu is fairly brief and standard. In fact, the specials' board had more variety than the menu. If you've got the family in tow, make sure you check out the kids' menu.
We ordered the corn and brie fritters with bacon, which came with sour cream, sweet chilli sauce and a big bowl of salad ($14) and the Siren Breakfast with scrambled eggs, grilled tomato, crispy bacon, sauteed mushrooms on toasted pide ($16.50).
The fritters were tasty but the brie was just slapped on top, and the breakfast was aptly described as "tired" - as though it couldn't be bothered getting out of bed. The deflated eggs looked like they'd been slapped on the plate and the bacon was limp and uninspiring.
The coffee was really good, except for the mocha's chocolate sprinkles, which were all over the spoon's handle. Cue sticky fingers.
The service was a little slow, but friendly.
We recommend if you come here, if you're seeking breakfast the menu stops at noon, so get there early.
Overall we thought Siren was good for the kids and great to have another option in Titirangi Village, but the food was pretty basic and nothing to write home about.