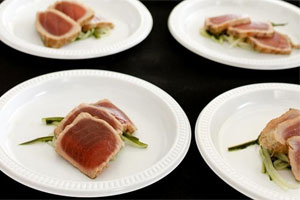 Now is the time to start planning your summer. Holidays, concerts, festivals - this great country of ours has so much going on. One event to put in your diary now is the annual Auckland Seafood Festival. It doesn't take place until Anniversary Weekend in January, but the tickets have just gone on sale.
Next year's festival will be held at Te Wero Wharf and will be a feast of fresh seafood, music, entertainment and competitions. The Seafood School will be running free cooking classes and there are plans for a number of top restaurants to be involved as well. Last year the event raised $103,000 for charity. This year the chosen charities are the Kiwi Can foundation, which promotes life skills for 5-12 year-olds and The Stellar Trust. Roll on summer. Tickets $15. For more info go to aucklandseafoodfestival.co.nz.
Top shelf shine
Like magpies we're all attracted to something with a bit of extra sparkle.
That's why we couldn't go past the new Absolut Glimmer Limited Edition Vodka. The crystal patterned bottle is the latest in a series of unique looks. Previous ones have included the Masquerade bottle and the studded Rock bottle. Perfect for the party season, this is one way to add extra glamour to your night. $34.99 at leading liquor outlets from November.
Man about town
Uber-busy chef Peter Gordon is making the most of being in town. On Saturday night he and 12 top chefs from New Zealand, Australia, Hong Kong and London will be cooking up a storm for the black tie Sky City "Dining for a Difference" fundraiser to benefit the Leukaemia & Blood Foundation. Then on Sunday he will be giving a cooking demonstration at the new North Shore Farro Fresh Market store on Constellation Drive. Plus, he will be dropping into Sabato on Normanby Rd, Mt Eden, on Saturday 6, from 11am-1pm, to show off his new range of tasty condiments. Our favourite: Fig Walnut & Whisky Chutney.
TakeOut awards
The Viva team has been busy eating its way around Auckland's cafes and takeaway bars in search of the best takeout food. If you have a favourite place for takeouts, we'd love to hear your recommendations. Email your favourite place, your menu picks and why you love them, to viva@nzherald.co.nz.