A fervour for food led Lynn Huhtala to a new career guiding other foodies to delectable locations around town.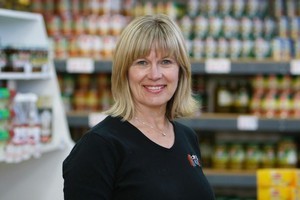 How many of us have ever daydreamed about turning our passion or hobby into our own business? And how many of us think we might have left it too late? Lynn Huhtala is a woman who believes it's never too late for anything. When she found herself in her late forties with a daughter who had just started school, and with more time on her hands, she began to consider whether it was time to stop dreaming and do what she'd always wanted to do - create a business that could include her passion for food.
"All I could think was that my daughter was lovely but I needed something else! A lot of women I know find the same after a few years of becoming a parent. I began to consider what next."
Of inspiration to her was her husband's mother, the New Zealand paleontologist Joan Wiffen. Lynn gets excited as she explains: "Joan got involved with geology and palaeontology in her 50s, so she was a great example that age is no barrier. Of course, she went on to become an expert in palaeontology and make historic dinosaur discoveries, but it all started with her pursuing an interest. I decided my interest was in food and more specifically, the diversity of cuisine, the flavours of the world, that are alive and well in our city."
That was nearly three years ago and Lynn is now the owner/ operator of her own thriving food tour business, Finding Flavour, based in Auckland. With a background in tourism (she was chief executive of Tourism Auckland in the nineties) these are tours with a difference - they are aimed at us, the locals, as a way of discovering our own city through the myriad talented and passionate food suppliers and retailers in our own neighbourhoods.
"I knew that these tours existed overseas and one day when I was checking one of these companies out online, the light just went on" says Lynn "Why couldn't I do the same in our own city?"
She admits that when she first started out she was concerned perhaps Auckland lacked the necessary scale compared with the food cultures of Sydney and Melbourne, for instance. But once she started researching she was astounded at the diversity of the culinary pockets within Auckland. "My idea was to bring these pockets together in a tour where Auckland food-lovers could discover what their city held. I wanted each tour to be a collection of people, all brought together by their common love for food, who then build a rapport within the hidden gems of different producers, manufacturers and retailers. There also had to be that element of the thrill of the hunt - that any self-confessed foodie will be familiar with - finding that out-of the-way specialty store, that small manufacturer situated deep in the heart of an industrial area which allows direct sales if you know where to find them and how to ask nicely, that little bakery or cafe serving up unbelievably authentic food that has queues out the door ...".
The first tour, in December 2007, is still very clear in Lynn's mind.
"I was completely stressed but at the same time excited to see my dream come to fruition. I was so worried I'd misjudged the target market." She hadn't. The participants had a ball and Finding Flavour hasn't looked back. Her World in a Day tours cover the four corners of Auckland, while other tours are designed around themes such as French cuisine or edible gardens. Some of the tours finish with a cooking class where participants cook with what they have bought.
The tours attract many repeat customers so, as a way of keeping it fresh, Lynn has added tours to Wellington, Sydney and, coming up in November, Melbourne.
"We've created a community of our own! They know that the tours will be filled with like-minded people who all share an intense interest in food. I've heard more than one participant say that it's a relief to spend a whole day with other foodies, knowing that no-one is going to get bored with all their food talk!"
For the most part the participants are from the "civilian foodie world", meaning they are not in the hospitality industry as such.
With the benefit of hindsight it's easy to see that a business based around gathering a group of people who love to eat and cook, and taking them to visit people who live to cook and share their food, could never have been anything but a huge success.
But it did need a brave woman, determined to have fun, to take the first steps.