Topshop's new affordable and on-trend makeup line will soon be stocked in New Zealand at Takapuna's The Department Store.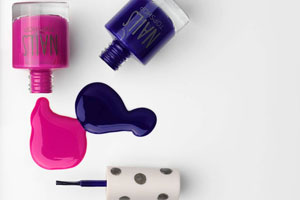 What took you so long? That's the first question that Topshop's customers might ask when they get their hands on the brand's new makeup line. For a shop that does affordable fashion better than any other, it makes perfect sense to create budget beauty products to match.
Fortunately it's been worth the wait, with New Zealanders getting a taste of the range launched in Britain in May from next week. Outside of Topshop's standalone stores internationally and Colette in Paris, in what is something of a coup, the Department Store in Takapuna is the only stockist you'll find.
All the products will sell from $10 to $25. Packaging is simple but still has personality, and there's a broad range of on-trend colours and pigment-packed formulations.
It's not impossible to find good, cheap makeup; many such products perform just as well as pricier counterparts. However they can feel cheap, whereas Topshop makeup looks more premium, thanks to playfully stylish packaging.
"Our customer wants to come into the shop with her last tenner and be able to buy a piece of new fashion," says Lizzie Dawson, the Topshop designer behind the range. "She might not be able to buy the latest blouse, but she can buy the latest nail colour. It's an affordable way to feel part of the trends."
Beauty products are well-established as a cheaper treat than a new outfit, but it's only recently that they've become so directional. Chanel polish junkies will be pleased to note Topshop's Big Smoke varnish is a similar mushroomy grey-brown to Chanel's Particuliere, while the light peppermint Gone Fishing is a bona fide colour of the summer.
While there's an undeniable pleasure in coating your talons in a hot shade, there's also a new wave of creativity sweeping through beauty. Looks that are less about achieving a perfect Hepburn-esque sweep of liner, and more about coming over all artistic.
It's about playfulness, not perfection; invention, not correction. Women who spend hours blending four different shades of eyeshadow with a squirrel hair brush need not apply.
According to Topshop makeup artist Hannah Murray, who used the products for the wild woodland-creature look of the autumn/winter Unique show, "You don't really need brushes, the pigments are so amazing. Just apply straight from the crayon/bullet/finger, and you are good to go."
The colour products are the highlight of the range. There's no foundation as such, only a Skin Tint which comes in four colours, and Skin Glow. If the first flush of youth has left your cheeks - or your complexion is about as clear as an ash cloud - look elsewhere for coverage and youth-enhancing ingredients. But for indelible colour that will survive even the hardest partying go for the Bitten Berry Lip and Cheek Tint; it does not budge.
Apply at the start of the Big Day Out and it will probably still be there at the end.
Festivals have been a key source of inspiration, according to Lizzie Dawson.
She came up with the idea of the feather eyelashes and face decorations of the spring/ summer Trend range after going to the Secret Garden Festival in Cambridgeshire, England, and feeling underdressed because everyone else had decorative masks and headdresses. She and her friends improvised by
sticking feathers on their cheeks and when they received lots of compliments she decided they should recreate the look in the range.
"Festivals are really important for makeup trends," says Dawson.
"People don't look to actresses for beauty trends any more, they look to musicians such as Natasha Khan [of Bat for Lashes] and Florence Welch."
Dawson and the team's inspiration also came from travelling the globe and seeking out the hippest looks - such as those of the shop girls in LA who "have this really cool, grungy look as if they have slept in their eyeliner for two days", and the Harajuku Girls in Tokyo who "really experiment with colour".
She took inspiration from the Brits' return to strong lipstick.
Hannah Murray feels that beauty is in the throes of "an exciting shift to a more grungy, dishevelled beauty, a nod to the 90s, where cool, sexy lived-in greasy eyes or stained dark mouths ruled".
Technological advances in foundation and concealer might mean we can achieve a perfect, flawless finish, but the fun of makeup is in creative experimentation - to hell with the odd panda eye or too-bright lip along the way.
And with affordable products like these, at least mistakes on the road to make-up nirvana won't be too expensive.
- INDEPENDENT
Top trends at Toshop
Topshop makeup designer Lizzie Dawson says she loves New Zealanders' sense of style and experimentation and is "desperate to visit."
Her magpie approach to design takes inspiration from checking out blogs from here, there and everywhere, and travelling to soak up street-style worldwide. She is also inspired by the women she works with at the Topshop head office in London. "The girls really experiment with their 'looks' and I find the trends seem to change on a weekly basis which keeps me excited when creating a new range or product."
New Zealand will get an edited selection of the makeup range available in London, catering for skin, nails, eyes and lips, plus beauty accessories such as brushes and eyelash curlers, all priced under $25. First in will be a colour collection called Heavy Duty, influenced by a visit to Melrose Ave, Los Angeles. "These girls inspired two of our most successful products to date, our lip marker - a stunning, easy to apply felt tip stain in a deep red tone - as well as a brand new innovation in the form of a kohl 'dust' in black. It's a gorgeous powder-form kohl that sits in the inner rim of the eye and can be smudged into the lower lash line for that 'ultimate' smoky eye."
Hot new nail colours including khaki and air force blue shades will twin with deep crimson and bitten berry lip tones.
Sadly Dawson can't make the launch of her products in Auckland next week, but she said she kept tabs on what sold where. "Our black, glittered nail polish was a best-seller in Singapore, whereas English girls seem to prefer brighter tones. In New York the girls tend to be more experimental with their colours too, they love the brighter red lipsticks and of course the coloured kohl liners, It really fascinates me, who buys what and where."
She told Viva to expect items right on trend with Topshop clothes. "For me, it's important to look to the current trends, especially when it comes to colour selection as you want to be able to offer the customer an on-trend colour that will sit with her 'outfit'."
Customers weren't all Topshop girls, but she designed with them in mind, though noticed a wide age range among shoppers. In the new year the next collection will feature "bleached-out neons and metallics ... playful and experimental with a touch of festival glamour". After that, who knows - fast fashion can't afford to rest on its laurels - but Dawson mentions a recent trip to Austin, Texas where she found a box of tiny 1950s powder paint pot testers in a junk shop. "They were $1 each and were the most incredible collection of colours I have ever seen. I bought the whole lot."